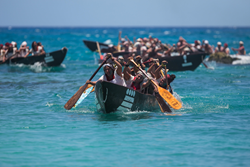 XCARET, RIVIERA MAYA, QUINTANA ROO, MEXICO (PRWEB) June 21, 2017
XCARET, RIVIERA MAYA, QUINTANA ROO, MEXICO - Nine hours of paddling on open water and six months of physical and mental preparation sent 300 canoers across the Caribbean Sea in record time. This unparalleled experience and ancient tradition was only recently brought back to life in 2007, five centuries after the last crossing from Xcaret to Cozumel.
"For the crossing from Xcaret to Cozumel they made it in an average of 6 hours of navigation, and the return was completed in just 3 hours," said Leticia Aguerrebere Salido, the general manager of the event.
The Sacred Mayan Journey is an ancient ritual on the Yucatán Peninsula that recreates the pilgrimage to the Island of Cozumel in search of the message of the oracle Ixchel, the ancient Maya goddess of medicine and making children, in the same style as the ancient Maya navigators and merchants.
This tradition was halted after the arrival of the Spanish to the Americas but was recovered in 2007 after more than 500 years of not being practiced. In the first version five canoes, made in the style of the ancient Mayas, crossed from Xcaret to Cozumel with only 25 canoers.
Every participant fulfills a personal promise, overcomes challenges and contributes to the preservation of this ancient tradition. This year, 166 men and 135 women participated from canoeing schools in Cancún, Cozumel, Xcaret and Xel-Há. This journey included 38 international canoers from around the world, including Argentina, Spain, Venezuela, Chile, Italy, France, the United States, Canada, New Zealand, Russia, Switzerland and Uruguay.
ABOUT XCARET PARK
Xcaret is one of Mexico's ecotourism destinations located on the shore of the Caribbean Sea. There are three underground rivers surrounded by magnificent natural scenery. The area also features amazing marine and land species, protected by Xcaret's conservation programs. More than 300 performers exhibit the history, culture and folklore of Mexico. For more information about the Sacred Mayan Journey please visit http://www.travesiasagradamaya.com.mx or visit the hashtags #TravesiaSagradaMaya and #SacredMayanJourney.
++++++++++