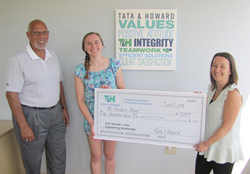 MARLBOROUGH, MA (PRWEB) June 27, 2017
Tata & Howard, Inc., a leading innovator in water, wastewater, stormwater, and environmental services engineering solutions, awarded the inaugural Donald J. Tata Engineering Scholarship to Kimberly Konar. The scholarship is presented to a graduating Marlborough High School senior who is attending a four-year college or university to pursue a degree in engineering, and was instituted this year in memory of Donald J. Tata, P.E., co-founder and former CEO of Tata & Howard, Inc., who passed away in March of this year.
"We had many well qualified applicants for the inaugural Donald J. Tata Engineering Scholarship, but Kimberly's academic achievements and numerous extracurricular activities really made her stand out," stated Jenna W. Rzasa, P.E., Co-President of Tata & Howard. "We were thrilled to present her with the scholarship, and are excited to see what the future holds for this accomplished young woman."
A member of the National Honor Society, Ms. Konar also excelled in indoor track, softball, and volleyball, and won numerous awards for her participation in concert band, jazz ensemble, and marching band. She also won an award from the Tri-M Honor Society for outstanding community service.
"Kimberly's work ethic and positive attitude are traits on which we place high value here at Tata & Howard, and are in line with our core values," added Paul B. Howard, P.E., Senior Vice President of the firm. "We are impressed with Kimberly for her exemplary high school record both on an academic and personal level, and know that Don would have been proud to recognize her for her outstanding accomplishments."
Ms. Konar plans to attend Clarkson University in Potsdam, New York this fall, and is majoring in engineering.
About Tata & Howard, Inc.
Founded in 1992, Tata & Howard, Inc. is a 100% employee-owned water, wastewater, stormwater, and environmental services consulting engineering firm dedicated to consistently delivering cost-effective, innovative project solutions. Working with clients as a trusted partner, Tata & Howard provides a full range of environmental engineering services, from concept to completion, as well as sustainable solutions including low impact development and LEED certified building. Tata & Howard has gained a solid reputation as an industry leader in the Northeast by bringing knowledge, integrity, and dedicated service to all sized markets, both public and private. With offices in Massachusetts, Connecticut, Maine, New Hampshire, Vermont, Arizona, and Texas, Tata & Howard's expansion has included projects in Louisiana, New Mexico, New York, Pennsylvania, and Ontario, Canada. For more information, please visit http://www.tataandhoward.com.