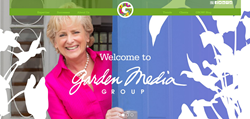 Our new website is a direct reflection of the beautiful horticultural market we represent.
Kennett Square, PA (PRWEB) June 27, 2017
Garden Media Group, located in Kennett Square, PA, has been awarded a 2017 Media Awards Silver Medal from GWA: The Association of Garden Communicators for the redesign of its website.
This special designation recognizes the top talent in more than 60 competition categories.
"Our new website is a direct reflection of the beautiful horticultural market we represent," said creative director Katie Dubow. "It's colorful, fun and easy to use."
Designed by Mobius New Media in Wilmington, DE, Dubow said it was created to inspire and inform, adding, "The site showcases our capabilities, our successes, and our personalities while at the same time educating people on how public relations builds brands."
Garden Media is now entered for judging in the Gold Medal Round, where awards will be given for the best of each award class. Gold Medal winners will be announced during the 2017 Awards & Honors Dinner at the GWA Annual Conference & Expo in Buffalo, NY on August 7, 2017.
GWA Media Awards is the only national online media awards program for the gardening communications industry. Held annually for more than 20 years, the GWA Media Awards recognizes the top professional horticultural communicators in the areas of writing, photography, digital media, broadcast media, publishing and trade. Learn more about the GWA Media Awards here.
For almost 30 years, Garden Media has been creating award-winning PR campaigns, launching new products and building brands. The firm works with start-ups to the giants of the horticultural industry, from the Philadelphia area to Japan. Garden Media's annual Garden Trends Report is one of the most published garden studies in trade and consumer news. Visit http://www.gardenmediagroup.com for more information.