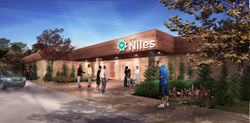 Kansas City, MO (PRWEB) July 05, 2017
On July 7, 2017, Niles leaders, partners, donors and the community will celebrate the re-opening of the recently renovated facility in Kansas City, Missouri with a ribbon-cutting ceremony and open house. Niles, which has had a strong presence in the heart of downtown Kansas City for 134 years, is a nonprofit organization that provides residential and day treatment programs for children and teens.
The Niles Prep day treatment program focuses on helping children and adolescents who have struggled in mainstream classrooms due to educational, psychological or behavioral concerns. The residential treatment program is designed to support youth with intensive clinical services in a structured environment. These programs help enrich and enhance the lives of those individuals and families with mental health needs, therefore creating healthy communities for those across the state of Missouri.
Improvements to the Niles facility include:

Renovated dormitory and recreation space – improvements to the common spaces and living area will help youth feel that Niles is a place of hope, healing and safety.
Learning Lab – dedicated to interactive activities to help engage those in Niles' care including virtual reality, emotional regulation drills, music therapy and art therapy.
Visitation/Wellness Rooms – to create a place for families and supportive caregivers to meet with the children and teens in care.
Renovated entrance – a welcoming area for clients and guardians to experience admissions, visitations and discharge during treatment.
Thank you to these generous organizations for helping Niles to open its doors to serve more youth and families: The Sunderland Foundation, The Goppert Foundation, Community Development Block Grant (CDBG) Neighborhood Stabilization Program, JE Dunn Construction Company, Sarli Family Foundation, Hall Family Foundation, Gary Dickinson Family Foundation, The H&R Block Foundation, UMB Trust, Sprint Foundation, The Curry Foundation, and the Dunn Family Foundation.
In late 2016, Niles became part of the KVC Health Systems family. Read more about this partnership which is enhancing the quality and sustainability of this historic agency working in the heart of Kansas City.
Niles Ribbon-Cutting Ceremony
The Niles ribbon-cutting ceremony will begin at 10:00 a.m. with a short welcome from the CEO of the Greater Kansas City Chamber of Commerce Joe Reardon, Kansas City Mayor Sly James and Niles leadership, followed by self-guided walking tours of the renovated campus.
Learn more and RSVP at http://www.nileskc.org/openhouse.
The residential treatment program will begin accepting referrals this summer. Contact us to learn more about our admissions.
About Niles
Niles is a nonprofit organization that serves children and adolescents in the heart of Kansas City, Missouri with day treatment and residential programs. The youth Niles treats often struggle with depression, anxiety, trauma, substance abuse, suicidal thoughts and feelings of violence. The organization's residential psychiatric treatment uses innovative, evidence-based approaches to ensure each child's safety and wellbeing. Niles is accredited by the Council on Accreditation, an international, independent, not-for-profit, child and family service and behavioral healthcare accrediting organization, and recently joined the KVC Health Systems family. Learn more at http://www.nileskc.org.