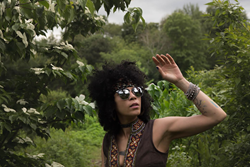 Los Angeles, CA (PRWEB) July 07, 2017
American singer/songwriter Imani Coppola has released her new single "Just Feels Good," which is the lead single from her upcoming album "Hypocrites." The track can be streamed online at https://fanlink.to/JustFeelsGood and is available online via iTunes, Spotify, Google and other digital service providers. "Hypocrites" is scheduled for a July 21st release date via Faction Entertainment.
Imani Coppola began her career at the age of 18 when she signed with Columbia Records and released her debut album "Chupacabra." The album spawned the Top 40 hit "Legend of a Cowgirl," which brought her into the mainstream as an artist while she toured the country as a part of the Lilith Fair tour. After leaving Columbia Records, Imani began writing for music and television and composing with producers like THE ELEV3N, Ido Z, Mike Mangini, Mike and Keys, JR Rotem, Greg Wells, Peter Zizzo, Baha Men, Diana Birch, Tom Jones, and Mike Patton. While she focused on writing for other mediums, Imani also recorded a pair of solo albums "Afrodite" and "The Black & White Album," which was released by Faith No More singer Mike Patton's Ipecac Records.
Imani's songwriting has always given the music a timeless quality to her compositions, while her smart, witty and depth-filled approach to writing lyrics, has made her a well sought after songwriter for years.