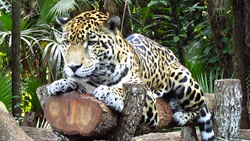 There's no doubt that we are blessed with some of the most stunning and diverse landscapes on Earth
San Ignacio, Belize (PRWEB) July 17, 2017
The Belize Tourism Board recently released figures showing impressive growth in 2017 tourist arrivals, and The Lodge at Chaa Creek is responding to Belize's growing popularity with a wider range of accommodations and activities, the popular Belizean jungle lodge's general manager said.
Bryony Fleming Bradley said welcoming a greater number of visitors involves catering to a wider variety of interests, expectations, requirements and budgets. And, after thirty-five years of development, that doesn't pose a problem for Chaa Creek, she explained,
"We grew side by side with Belize's rise as a tourism destination, and that gave us a perspective on what visitors were looking for as we developed. My parents started out welcoming guests with simple one room thatched-roof cabins, and guests' comments played a big part in where we went to from there.
"For example, in the early days, there was more of an emphasis on adventure, so we developed a range of tours and expeditions, and the infrastructure to support what became Chaa Creek Belize Expeditions.
"As the Belizean tourism industry became more sophisticated and travellers' expectations grew, we responded to guests' comments, satisfaction surveys and other feedback with a fine dining restaurant and lounge, the Hilltop Spa, infinity pool, conference centre and other amenities, and expanded the range of accommodations to include cottages, suites and villas," Ms Bradley said.
Chaa Creek now offers a wide variety of lodgings, from a rustic Macal River Camp to the luxurious Ix Chel Rainforest Villas with personal butler service and private jungle views, floor to ceiling glass doors and walls looking out onto elevated verandas featuring private plunge pools, Jacuzzis, and al fresco dining areas. In between are a "cottage collection" and various suites that can be configured and booked to suit families, couples, groups and individuals.
Activities include river tubing and canoeing, horseback riding and nature walks along a trail system crisscrossing a 400-acre private nature reserve, jungle and river safaris, tours of the onsite Natural History Museum, Blue Morpho Butterfly Farm, and more.
"By starting small and growing as the number of visitors increased, our development reflected what guests wanted, and was linked directly to their expectations and comments. I think that's one of the reasons why we have such overwhelmingly positive feedback on travel sites such as Trip Advisor," she added.
And given the continual increase in the number of people visiting Belize, it appears that the little Caribbean Central American country's popularity is not going to wane any time soon.
According to Belize Tourism Board figures released 12 July 2017, after a very strong 2016, overnight tourism arrivals increased during the first half of 2017, with an overall growth rate of 7.8%, and a 10% increase for the month of June alone. April recorded the highest rise compared to last year, with 24% growth.
"Maintaining a steady and brisk growth path, overnight tourism arrivals have again registered a positive trend for the first half of this year," the BTB report stated.
Ms Bradley cited several reasons for Belize and Chaa Creek's initial appeal and growing popularity.
"There's no doubt that we are blessed with some of the most stunning and diverse landscapes on Earth. Chaa Creek is surrounded by vast tracts of pristine jungle wilderness home to hundreds of species of birds, abundant wildlife and ancient Maya temples, cities and archaeological sites. And the unspoiled Caribbean coast with clear turquoise water, the world's second largest barrier reef sheltering hundreds of little islands as well as the larger Ambergris Caye and Caye Caulker is a short hop away.
"Travellers also comment on Belize's colourful multiculturalism and how warm and friendly Belizeans are. With English as the official language and our currency pegged two-to-one to the US Dollar, which is accepted everywhere, getting around and enjoying the many different activities on offer is very easy," she said.
Considering Belize's steady rise as a tourism destination, is there a worry that the little country will lose the laid-back, intimate flavour that attracted people in the first place?
Not at all, Ms Bradley said.
"We're still the most under populated country in Central America, over a quarter of Belize's land and sea is protected wilderness area or nature reserves, most of the tourism industry is made up of smaller, family owned and operated businesses, there's a very strong national commitment to sustainability and responsible travel, and Belizeans like things the way they are and want to keep it this way.
"At the end of the day, Belize is Belize, and as far as tourism goes, it's very much a case of 'the more the merrier'," Ms Bradley said.
The Lodge at Chaa Creek is a multi-award winning eco resort set within a 400-acre private nature reserve along the banks of the Macal River in Belize. It was recognised by National Geographic with first place honours at the 2017 World Legacy Awards held in Berlin.
ENDS