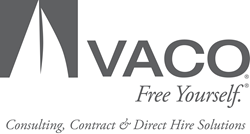 Florida (PRWEB) July 25, 2017
Florida's population is growing by leaps and bounds and that means a need for more roads, housing, schools, and jobs. And jobs are where Vaco comes in. Vaco locations in Florida – focused on accounting and finance, technology, operations, and office professionals – provide the foundation for a staffing and business consulting firm that serves both individuals and companies. Helping clients and candidates fulfill their employment goals is why the Vaco team says it is the best place to work in Florida.
People are at the center of Vaco's corporate culture – the team, clients, and candidates. As the largest full-service firm in Central Florida, if not all Florida, Vaco is in the people business, explains Stephen F. Smith, partner and director of financial recruiting. "We are emotionally invested in the people. What separates us from other companies is that we actually do care about each other and their development."
"Everyone on the team helps everyone else, from the CEO all the way down the line," explains Cynthia Garces, managing partner of Vaco South Florida. "Resources are available every step of the way to help grow the business, and management provides the tools and guidance to succeed with our clients."
Vaco's professional diversity and flexibility are other valuable assets that contribute to the company's success. "We have a very diverse group of people and backgrounds – some with lots of experience and some just starting out – and we learn things from each other," said Brian Yankelevitz, director of operations. The Vaco team makes it exciting to go to work every day. Yankelevitz explained, "We get to help candidates fulfill their professional dreams, while helping our clients run efficiently and effectively."
"What really sets us apart from other staffing agencies is that we care," said Beau McGlamery, partner and director of technology." And if you put that out into the marketplace you not only attract internal talent but you also attract great candidates.
"We attract people that can leverage their natural talents and experience. We customize solutions for our clients. They tell us what they want and we make it happen." added Denise Bennett-Walls, managing partner, Vaco Orlando.
Each team member sets up their own management objectives (MBO); business, personal and community goals. Yes, we care about their personal goals. Our job is to help people achieve their dreams. Because that is our main focus every day, Vaco naturally maintains the Best Place to Work.
"It's a privilege to help clients meet their future employees," states Nakita Broussard, manager of Vaco Staffing. "And I love how our professional objectives and goals tie into the community. We try to make Florida a great place to live. Our clients expect us to help them build best-in-class teams. And that helps us create the community we live in."
"We take pride in the relationships we build with our clients," said Bennett-Walls. "That's the fulfilling aspect of our careers. Our role in the business cycle is to provide talent, I also view it as building lifelong relationships." For the Vaco team, it's those meaningful lifetime relationships that make it the best place to work in Florida.
About Vaco
Vaco is a senior-level consulting and executive placement firm, specializing in the areas of finance, accounting, technology, engineering, healthcare, financial services, and administration. Vaco is celebrating 15 years of client service and has been named on the Inc. 5000, an exclusive ranking of the nation's fastest growing private companies, for the last ten years. Vaco has 38 offices nationwide that share the same vision and are dedicated to developing long-term relationships, life-long careers and creative client solutions.
For more information about Vaco, please visit http://www.vacoorlando.com