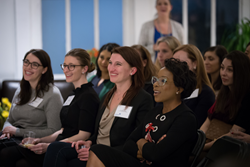 It's time to stop asking women to act like men, time to toss your decades-old diversity playbook, and start paving the way for real cultural change.
New York, NY (PRWEB) August 24, 2017
Ellevate Network, the leading network for professional women, is on a mission to close the gender achievement gap in business. Research from Credit Suisse shows that companies with women in leadership out-perform the market, and according to a 2014 Mercer report, the lack of women in the workforce hurts profitability, innovation, and retention.
In 2017, women represent only 17% of senior leadership in Fortune 500 companies, and companies are struggling to create internal programs that support professional women and lead to gender parity in business. According to 37% of Ellevate women, their company not managing diversity well was a cause for their unhappiness at work, and 77% of women who were unhappy and left their company did so because the company culture was not a good fit. Ellevate Network partners with companies committed to gender equality by leveraging the power of networking, education and community.
Ellevate Network's Chair, Sallie Krawcheck, is a vocal advocate for gender equality and draws upon her experience leading major financial institutions to address ways companies can re-think the diversity playbook. In July 2017, Ellevate Network released a digital excerpt of Krawcheck's 2017 best-seller 'Own It,' which addresses diversity challenges in the business world and provides insights into how companies can rethink diversity. This resource for HR and Diversity professionals, as well as anyone looking to understand the future of the world of work and the important role that women play in the workforce, includes unique information on:

How The World of Work Is Changing - And Why That's Good News for Women
Let's Hold A Funeral for The Diversity Council… and Other Well-Meaning Initiatives That No Longer Work
The Importance of Networking
Sallie Krawcheck said, "Our companies, economies and our society at large need women badly. The power of diversity in driving business results is……wait for it…… diversity. It's not bringing together a bunch of people of difference and training them to behave the same way. It's time to stop asking women to act like men, time to toss your decades-old diversity playbook, and start paving the way for real cultural change."
You can download the educational e-book here, and stay up-to-date with Ellevate Network by signing up for the newsletter here. To learn more about corporate partnerships with Ellevate Network, click here.
About Sallie Krawcheck: Sallie Krawcheck is the Chair of Ellevate Network, the global professional women's network, and of the Pax Ellevate Global Woman's Index Fund, which invests in the top-rated companies in the world for advancing women. She is also CEO and Co-Founder of Ellevest, a recently launched innovative digital investment platform for women, and the best-selling author of "Own It: The Power of Women at Work." Before becoming an entrepreneur, she was CEO of Merrill Lynch Wealth Management, of Smith Barney and of Sanford Bernstein. During her career, Krawcheck has a history of turning around and growing troubled businesses, eliminating Wall Street conflicts of interest, and advocating a true client-centered business model. Fortune Magazine called her "The Last Honest Analyst" during her tenure at Sanford Bernstein, and noted that hers was the most influential voice for research quality and integrity.
About Ellevate Network: Ellevate Network is a global professional women's network committed to elevating each other through education, inspiration, and opportunity. Our mission is to close the gender achievement gap in business by providing women with a community to lean on and learn from.