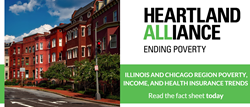 "The data is clear: our safety net programs play a critical role in moving people out of poverty, and they are under threat at the state and national levels." — Katie Buitrago, director of the Social IMPACT Research Center
(PRWEB) September 15, 2017
Recent data from the U.S. Census Bureau revealed that poverty in Illinois decreased from 2015 to 2016, aligning with national trends. Despite this improvement, poverty in Illinois remains stubbornly high—13.0% compared to 11.9% in 2007 before the recession. This is in contrast to national trends that showed that U.S. poverty rates overall returned to pre-recession levels. In addition to the decrease in the poverty rate, the data found that health insurance coverage reached record levels in Illinois.
After a more than two-year long impasse, Illinois passed a state budget in August, but the burden and consequences of the stalemate still impacts millions of Illinoisans in poverty. The resulting loss of services that help connect people to work, ensure low-income workers can access child care, provide MAP grants for students seeking an education, and help survivors of violence recover will make it much more difficult for people to meet their basic needs and move out of poverty.
Read Heartland Alliance's fact sheet on Illinois and Chicago region poverty, income, and health insurance trends based on the newly released data.
This new information also revealed:

Illinois poverty declined from 2015 to 2016 and is now at 13.0%. The poverty rate is still 1.1 percentage points above its pre-recession 2007 level of 11.9%.
Extreme poverty—having income below half the poverty line—also declined in Illinois and is now at 5.9%. 739,000 Illinoisans are extremely poor.
Bucking national trends of income growth, income levels are stagnant in Illinois: Illinois median household income in 2016 was $60,960, which is not significantly different from 2015. Income is still 4% below its pre-recession 2007 level.
The rate of non-seniors in Illinois who are uninsured fell to 7.4%, a 0.7 percentage point decline from 2015 and a dramatic decline of 6.8 percentage points from 2008. 801,000 non-seniors remain uninsured.
For more information and to get comment and analysis from Heartland Alliance experts, read the attached press release.