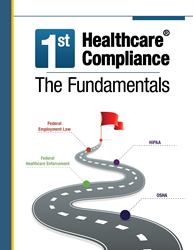 First Healthcare Compliance will be demonstrating The Fundamentals and its array of compliance technology solutions at conference booth #1051.
WILMINGTON, Del. (PRWEB) October 12, 2017
First Healthcare Compliance (FHC), an industry leader in technology and advisory services for healthcare compliance program management, will showcase a range of technology and learning solutions at the 68th Annual American Healthcare Association (AHCA) and National Association for Assisted Living (NCAL) Convention and Expo to be held October 14–18, 2017 at the Mandalay Bay Resort in Las Vegas, Nevada.
Highlighting these solutions will be demonstrations of FHC's just-released "The Fundamentals" course and guidebook, an easy to use online learning tool that dispenses with the print textbooks and reference materials healthcare workers had to use in the past to learn the core compliance rules they needed to understand in their day-to-day work.
This much-needed practical course gives healthcare professionals the substantive knowledge they need to meet compliance challenges in today's closely scrutinized healthcare industry. The offerings are packed with informative content that covers the essentials of HIPAA, OSHA, Federal Healthcare Enforcement and Employment Laws.
"With ever-more complex healthcare regulations on the rise, we are excited to be a part of this year's AHCA/NCAL conference and have the opportunity to bring to the long-term and post-acute care professionals community easy-to-use compliance solutions, like The Fundamentals, that will support the hard work they do on a daily basis," says Sheba Vine, FHC's Vice President and General Counsel. "The Fundamentals course takes a user-friendly approach to teaching these important principles and practices."
Delivered via four interactive modules, the course can be completed in under four hours. A learner may begin with any of the modules and follow a flexible schedule. Those completing the course can earn a certificate by taking a 100-question exam to display mastery of healthcare compliance fundamentals.
First Healthcare Compliance will be demonstrating The Fundamentals and its array of compliance technology solutions at Booth #1051 at the conference. To arrange interviews with the First Healthcare Compliance executive team, please contact Tita Cherrier at publicrelations(at)1sthcc(dot)com or call 302-234-9500.
About First Healthcare Compliance
Founded in 2012 in Wilmington, DE by Julie Sheppard, First Healthcare Compliance's cloud-based software and advisory services provide the most comprehensive suite of solutions available today to address compliance program management needs of private practices, hospital networks, healthcare billing companies, and long-term care facilities.