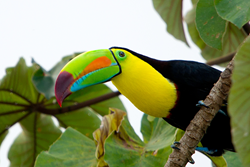 there aren't too many places where you can swim in crystal clear Caribbean waters and explore ancient Maya temples in the same day
San Ignacio, Belize (PRWEB) October 24, 2017
New figures released by the Belize Tourism Board show that tourist arrivals continue to rise in Belize, confirming The Lodge at Chaa Creek's belief that success and environmentally friendly tourism go hand in hand, the Belizean eco-resort's reservations manager says.
Elsie Pacheco said an October 17, 2017 BTB report shows tourist arrivals continued to rise during the first nine months of the year, with an 8.6% increase in overnight arrivals. Even during September, when dramatic weather events negatively impacted Caribbean tourism, Belize was still able to record an increase of some 1,400 arrivals, representing a growth of 7.9% over last year's figures, according to the BTB data.
The third quarter, encompassing July to September, is traditionally regarded as Belize's low season for tourism, yet the country still saw an increase of 10.9% for that quarter compared to 2016.
Ms Pacheco said several factors contribute to Belize's continuing appeal.
"For such a small country we have an amazingly diverse geography, and that caters to a wide variety of interests and activities. For example, there are not too many places where you can swim in crystal clear Caribbean waters and explore ancient Maya temples in the same day.
"We are also blessed with near-perfect weather year round, meaning any month is a good month to be in Belize.
"And people find our harmonious, multicultural society interesting, friendly and welcoming, with English as the official language making it easy for many visitors to get around," Ms Pacheco added.
The BTB statistics also showed that the United States continues to be Belize's biggest market, with the number of Canadian travellers growing as well; a trend the BTB anticipates will increase with expanding air travel choices. A new WestJet service between Calgary and Belize City is on track to commence on November 3rd 2017, and Air Canada is initiating a new route from Toronto in December.
"Perhaps because of our shared Commonwealth association, we've always had a healthy number of Canadians travellers in Belize, and with these new direct flights making getting here from Canada that much easier, we're expecting to see more Canadians taking a break from the cold this winter," she said.
Ms Pacheco explained how Chaa Creek's growth kept pace with Belize's since the little country achieved independence from Great Britain in 1981.
"Belize was relatively unknown when we became independent, and breaking into the global tourism market seemed daunting at first. Mexico, Jamaica, and other Caribbean destinations were already well established, but not many people knew that the former British Honduras was now Belize and had so much to offer.
"At the same time, Chaa Creek was just a small family farm that Mick and Lucy Fleming had a reputation for welcoming visitors to."
Ms Pacheco said that relative obscurity had a silver lining.
"It meant that we had to develop Belize's tourism industry from the ground up and work that much harder to establish our reputation. But having a clean slate to work from meant that we could develop in an environmentally sustainable and socially beneficial manner, and that's made Belize a Green, happy country that people find attractive.
"And these latest tourism figures show that attraction continues to grow every year."
The Lodge at Chaa Creek is located in Belize's ancient Maya heartland and offers a wide variety of accommodations ranging from "glamping" in rustic bungalows at the Macal River Camp to the luxurious Ix Chel Rainforest Villas situated on a ridge overlooking the Macal River, fronted with floor-to-ceiling glass walls and doors offering stunning private vistas, expansive verandas with personal plunge pools, Jacuzzis, and the attention of a personal butler. An eco-luxe thatched roof "cottage collection" along with individually designed suites and villas offer visitors an unparalleled choice in lodging, Ms Pacheco said.
Amenities include an onsite restaurant featuring farm-to-table dining and fresh Caribbean seafood, the internationally recognised Hilltop Spa, infinity pool and a range of activities that include horseback riding, guided birding and nature walks along miles of trails running through a 400-acre private nature reserve, canoeing, jungle and river safaris and an extensive menu of tours and expeditions.
Ms Pacheco said the popular Belizean eco-resort recently added a combination jungle lodge and Caribbean sailing vacation aboard a 50' luxury catamaran to its "rainforest to Reef" surf and turf all-inclusive vacation packages.
"As tourism arrivals increase, we'll continue to expand our range of offerings to satisfy the growing number of guests with their varying tastes, interests and budgets. Trying to provide something for everybody in an environmentally friendly manner may sound ambitious, but we keep trying," Ms Pacheco said.
The Lodge at Chaa Creek is a multi-award winning eco-resort set within a 400-acre private nature reserve along the banks of the Macal River in Belize. It was recognised by National Geographic with first place honours at the 2017 World legacy Awards held in Berlin.