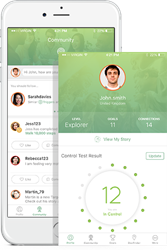 "We're honored to be recognized for creating this vital support network for chronic urticaria patients," said Tim Davis, Vice President, Digital Patient, ERT
PHILADELPHIA (PRWEB) November 01, 2017
ERT, a global data and technology company that minimizes uncertainty and risk in clinical trials, today announced it has been recognized with a CPhI Pharma Award for Excellence in Patient Centricity. The award is for TARGET My Hives, a patient community app from ERT that enables access to an online network of resources and health professionals for patients with chronic urticaria (hives). The innovative solution enables patients to support each other, helping them to actively take control of their condition.
"The annual CPhI Pharma Awards celebrates thinkers and creators who are breaking new ground in the pharmaceutical industry," said Tara Dougal, Acting Head of Content – Pharma at UBM EMEA. "We're pleased to recognize ERT with the Excellence in Patient Centricity Award for its commitment to delivering patient-focused innovations that drive the industry forward."
TARGET My Hives offers comprehensive support for the 74 million patients currently affected by chronic urticaria, including patients, parents and caregivers. Through this inclusive approach and the global patient community it creates among physicians, patient association groups and others, TARGET My Hives allows patients to learn from others like them how to manage their disease, set goals for themselves and share their results with each other.
"We're honored to be recognized for creating this vital support network for chronic urticaria patients," said Tim Davis, Vice President, Digital Patient, ERT. "Previously, patients were typically left alone to cope with the condition. By enabling patients to use their own mobile devices to motivate and support each other, the community reduces their sense of isolation and enables them to take control of their condition, which we hope will ultimately result in improved health outcomes."
Visit Target My Hives for more information.
About ERT
ERT is a global data and technology company that minimizes uncertainty and risk in clinical trials so that its customers can move ahead with confidence. With nearly 50 years of clinical and therapeutic experience, ERT balances knowledge of what works with a vision for what's next, so it can adapt without compromising standards.
Powered by the company's EXPERT® technology platform, ERT's solutions enhance trial oversight, enable site optimization, increase patient engagement and measure the efficacy of new clinical treatments while ensuring patient safety. Since 2014, more than half of all FDA drug approvals came from ERT-supported studies. Pharma companies, Biotechs and CROs have relied on ERT solutions in 10,000+ studies spanning more than three million patients to date. By identifying trial risks before they become problems, ERT enables customers to bring clinical treatments to patients quickly – and with confidence. For more information, go to ert.com or follow us on LinkedIn and Twitter.