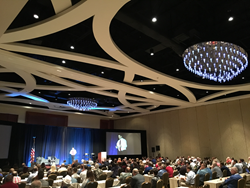 Tremendous value in knowing where the internet is taking our industry. Invaluable!
SARASOTA, Fla. (PRWEB) November 07, 2017
Contractor's joined together to discover knowledge, solutions to business challenges, find new inspiration for their management team and network with a community of success-minded contractors, industry experts and vendors at PS10 Ignite: Knowledge. Solutions. Inspiration. Community. The second annual PRAXIS S-10™ national conference motto, based on the cornerstone of productive business was, "In Knowledge We Trust," chosen in honor of the state seal, "In God We Trust." The event exposed an in-depth look at the the changing world of in-home services and what contractors with businesses of all sizes can do to participate in the future. The meeting took place at the Orlando Marriott World Center on October 13 and 14, 2017.
"With the right knowledge, contractor's can experience magic in their business. That is why the city of Orlando was the ideal location for the meeting," said President, Terry Nicholson.
The conference commenced with the live singing of the National Anthem and a kick-off address by Mr. Jimmy Hiller, Co-founder of PRAXIS S-10™, whom brings a real-world training experience to members based on how he turned his business into a 95 million dollar in-home service provider. In celebration of the growing vendor network, there was a cocktail reception where members leveraged vendor saving opportunities and more. Vendors also shared specialized knowledge at breakout sessions covering a variety of topics from how to increase average tickets to doubling replacement leads.
Participants discovered a plethora of business-building information, from The Changing World of In-Homes Services, by keynote speaker and industry influencer, Mr. Jim Abrams, to the complete replacements system to master client communications. PRAXIS S-10™ unveiled the brand-new state-of-the-art online training platform. Attendees were also fueled with the information on how to become a digital marketing dynamo as well as conquer the technician shortage and much more, as presented by Mr. Terry Nicholson, President of PRAXIS S-10™.
For more information on the organization, visit the website at http://www.PraxisS10.com or call 941.210.5610.
Here is what attendees are saying:
"You lit the fire in all of us to better our company!"
Neil Slattery of NS Plumbing & HVAC
"Tremendous value in knowing where the internet and social media is taking our industry. Invaluable!"
Maritza Carpenter of I Need the Plumber & AC
"PS10 Ignite provided my business with cutting edge knowledge."
Vincent Pezza of Pezz Electrical Services, LLC.
"A wonderful and informative educational experience. We KNOW following the PRAXIS S-10™ principles will make us successful."
Kristen Kemling of Pengiun Air Cooling & Heating
About PRAXIS S-10™
PRAXIS S-10™ is the world's #1 success college for contractors. Through the PRAXIS S-10™ principles of small business management developed by the world's leading authority on HVAC success, contractors acquire advanced technical and business knowledge. This 10-step proven formula for success is the contractor's roadmap to accelerated growth and profits. The praxis principles have been acclaimed and studied in various business and trade publications.
The Founders of PRAXIS S-10™
Abrams, Nicholson and Hiller established quite a reputation for helping contractors achieve success and for building contracting businesses before selling their company, Clockwork Home Services — the parent company of One Hour Heating and Air Conditioning, Benjamin Franklin Plumbing and Mister Sparky — to Direct Energy for $183 million in 2010. Prior to Clockwork Home Services, in 1996 Abrams founded the HVAC industry's first publicly traded company, Service Experts. Some of the more seasoned contractors may remember when Abrams invented the "best practice" concept for contractors when he founded Contractors Success Group with long-time business partner John Young. Nicholson, having worked with Abrams for the past 23 years, stated, "Mr. Abrams is the Dale Carnegie of HVAC success."
Contact:
Cate McLean
Director of Communications
PRAXIS S-10™ and PriceFixer.com™
(o) 941.210.5610 (e) Cate(at)PraxisS10(dot)com