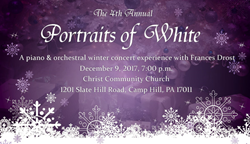 I love offering hope over the holidays by sharing stories, humor and great music. This concert contains all of those elements and more!
CAMP HILL, Pa. (PRWEB) November 14, 2017
Creative Soul Records artist Frances Drost almost gave up on Christmas. She secretly dreaded Christmas because as a young girl, she had tragically lost two siblings. Christmas called attention to their absence, and she simply didn't know how to make sense of the incredible loss. Frances began to write songs about her journey — an audio journal of sorts — and years later, it turned into the Christmas album, Portraits of White (Creative Soul Records).
Portraits of White is a beautiful wintery mix of familiar carols and soon-to-be classics. For the past three years, Frances has turned the album into an increasingly popular winter concert experience, complete with a 27-piece orchestra. Portraits of White has quickly become a holiday highlight in south central Pennsylvania. This year's holiday spectacular is scheduled for December 9, 2017 at 7:00 p.m. at Christ Community Church (1201 Slate Hill Road, Camp Hill, PA 17011). Tickets are on sale now at http://www.portraitsofwhite.com.
Nashville-based conductor Ed Kee says, "Every year we make a special effort to ensure that the music for Portraits of White is unique and entertaining and our 2017 show is no exception. We work hard to maintain the familiar melodies and the nostalgic feel of Christmas while presenting the music in a unique way that is new and creative but still leaves you with the warm, fuzzy Christmas feeling you expect this time of year."
"I love offering hope over the holidays by sharing stories, humor and great music," says Frances. "This concert contains all of those elements and more! We'd love to have you and your family come this year and make it your very own family tradition."
For more information, visit:
http://www.portraitsofwhite.com
http://www.francesdrost.com