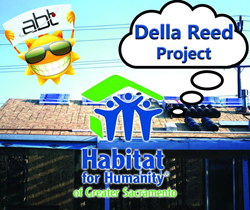 Della is a 65-year old widow of Air Force Veteran William "Bill" Jackson who was living in a home that was in jeopardy of falling apart around her.
SACRAMENTO, Calif. (PRWEB) November 16, 2017
Access Business Technologies is a very proud sponsor and partner of Habitat for Humanity which is something we are truly passionate about. We have been fortunate enough to furnish funds to help build homes throughout the greater Sacramento area. We have also carefully and thoroughly dedicated hours of volunteer work helping build safer housing for our admirable community. Our most recent participation has been rebuilding Della Reed's home. Our faithful employees volunteered and committed to a full day of work to travail tremendously on this widowed veteran's house. We are proudly participating in the dedication ceremony along with other sponsors, friends, family as well as the press.
With the help of hundreds of volunteers and generous sponsors, Habitat for Humanity of Greater Sacramento was able to rebuild Della's hope and home. Della contributed sweat equity to the project and will pay back 20 percent of the project costs through a zero-interest loan from Habitat.
Luckily, ABT will also be involved in a ceremony on Saturday, Nov 18 at 10 am. Our ceremony recognizing this will be located at 2212 North Ave in Sacramento.
Della is a 65-year old widow of Air Force Veteran William "Bill" Jackson who was living in a home that was in jeopardy of falling apart around her. Della's husband, Bill, served in the Air Force from 1976-1980 before working for Packard Bell and Dewalt. In 2004, he began suffering from congestive heart failure and work diligently until his heart condition worsened. Della then became his full-time caretaker. He took his last breath in their North Sacramento home of 20 years on Feb 2 2015. During the 8 years Della was taking care of her husband, she had to put off the greatly necessary repairs on their home. Due to her income, Della was unable to make these repairs that are pertinent to the survival of a home. Her roof, siding, porch and the overall structure of her home were in jeopardy of caving in around her. Della said, "My wonderful husband took his last breath in this home and I want to stay here until it's my turn and it's the only thing I have left of him. It's hard enough living without the love of your life and living alone, but it's even scarier when you have to worry that a storm will come and tear down your home with you in it." Due to the devotion of our volunteers and the contribution from our magnanimous sponsors, we were able to rebuild Della's home and aid her in feeling happy and safe there.
ABOUT ACCESS BUSINESS TECHNOLOGIES:
Access Business Technologies (ABT), headquartered in Northern California, was founded in 1999 as a leading provider of hosted, on-demand software for mortgage loan origination, servicing and pipeline management. We provide access to business technologies that empower mortgage professionals to safely perform at the top of their game. ABT proactively supports, defends, and manages game-changing technologies and processes that help mortgage professionals excel.
We are a certified SSAE 16 Type II cloud solution provider to over 500 mortgage financial institutions. We are partnered with nearly a dozen leading mortgage software vendors. These partnerships enable us to provide your workforce with the tools to safely produce more loans, anywhere and anytime. For more information, contact: info(at)myabt(dot)com.