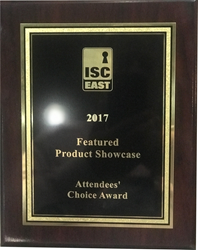 The show was an outstanding success for all vendors and the City of New York. On hand were the most sophisticated and advanced security technologies available worldwide and to have been chosen for this coveted award was a tremendous honor
CHATHAM, N.J. (PRWEB) November 17, 2017
Today Desktop Alert Inc. the 2017 Best Mass Notification System by GSN 2017 Airport, Seaport, Border Security Awards announced that the company was presented with the coveted Attendees Choice Award at ISC East. On hand for the event was legendary former Commissioner of the NYPD, Ray Kelly who delivered this year's keynote address at ISC East, sponsored by the Security Industry Association .
Desktop Alerts award winning Metis Secure Solutions booth featured state of the art Metis Secure Solutions Emergency Help Station Beacon Technology with former New York Ranger celebrity guests Ron Duguay, Ron Greschner, Stephan Matteau and Nick Fotiu.
"The show was an outstanding success for all vendors and the City of New York. On hand were the most sophisticated and advanced security technologies available worldwide and to have been chosen for this coveted award was a tremendous honor," said Howard Ryan founder of Desktop Alert Inc. and owner of Metis Secure Solutions.
About Desktop Alert https://www.desktopalert.net
Desktop Alert is a leading provider of enterprise mass notification and emergency communications products and services to the United States Department of Defense, federal government and First-Responders around the world. Its innovative and patented software has been internationally recognized as a "Best Mass Notification" and "Best First Responder Interoperable Communications" system. Desktop Alert provides a suite of scalable, flexible, and adaptable communication, collaboration, and situational awareness tools in environments ranging from austere - no terrestrial infrastructure support - to fully modern with extensive IP and legacy system integrations. Desktop Alert optimizes the communications flow with timely, accurate information to ensure effective decision making, coordination, proactive community engagement, and public awareness.