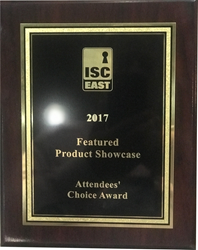 While many VC funded mass notification vendors were building / promoting brochure-ware, we were building state-of-the-art software. We are 100% non-funded and have enjoyed soaring to the top of this very challenging sector without enduring any restrictions on smart innovations, Howard Ryan Founder
CHATHAM, N.J. (PRWEB) November 21, 2017
Today Desktop Alert and recent Winner of the International Security Conference (ISC) East Attendees' Choice Award announced that its companies mass notification solutions, products and services have been published in the Markets and Markets mass notification report, the industry gold standard replacement for the now abandoned Gartner Magic Quadrant Report for Mass Notification. Click on table of contents to see the reports details.
Some of the top 25 Companies analyzed for this study are - Airbus DS Communications, Inc., Blackberry Athoc, Inc., Blackboard, Inc., Desktop Alert, Inc., Eaton Corporation, Everbridge, Inc., Honeywell International, Inc., Onsolve, Siemens Ag, Xmatters, Inc. Omnilert LLC, Singlewire Software LLC, Federal Signal Corporation, Rave Mobile Safety, Ati Systems, Inc., Mircom Group of Companies, and more.
"We are thrilled to be part of this report and can say unequivocally that our success and future will continue to be based on both happy customers and proven software. While many VC funded mass notification vendors were building and promoting brochure-ware, we were building state-of-the-art software. We are 100% non-funded and have enjoyed soaring to the top of this very challenging sector without enduring any restrictions on smart innovations. When lives are at stake, seconds count....not dollars," said Howard Ryan, Founder Desktop Alert Inc.
About Desktop Alert https://www.desktopalert.net
Desktop Alert is a leading provider of enterprise mass notification and emergency communications products and services to the United States Department of Defense, federal government and First-Responders around the world. Its innovative and patented software has been internationally recognized as a "Best Mass Notification" and "Best First Responder Interoperable Communications" system. Desktop Alert provides a suite of scalable, flexible, and adaptable communication, collaboration, and situational awareness tools in environments ranging from austere - no terrestrial infrastructure support - to fully modern with extensive IP and legacy system integrations. Desktop Alert optimizes the communications flow with timely, accurate information to ensure effective decision making, coordination, proactive community engagement, and public awareness.
Share article on social media or email: