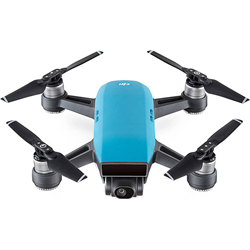 FAIRFIELD, N.J. (PRWEB) November 22, 2017
Have a photography lover on your holiday gift list? Whether you're shopping for a hobbyist or professional, Unique Photo—New Jersey's largest camera and video superstore—is ready to help select the perfect present from its vast selection of cameras, gear and equipment. From digital cameras to drones, personalized gifts and even photography education, Unique Photo is the picture-perfect place for gifts both in-store and online this Holiday season.
To help make Holiday shopping easier, Unique Photo has selected some of the hottest gifts for this year:
DJI Spark Drone Camera- $499
With the release of this year's Spark, DJI delivers an affordable option that provides exceptional aerial images for aspiring drone pilots. The light-weight, mini drone lifts off from a hand and hovers in place within seconds of powering on. Controlled by hand gestures, the drone takes pictures and video without the need for a remote control. Link Spark to a mobile phone for more precise controls, intelligent flight modes, and the ability to review and edit videos with an app to share quickly. Available in five bright colors, the Spark makes an excellent gift option for any photographer.
Fuji instax Mini 9- $65
Instax SP-3 Printer- $199
The Fuji instax camera series is a hot gift this season and will make recipients instant hits at parties and get-togethers. Fuji has carried Polaroid's torch and offers instant in-camera film printing for a new generation. The Mini 9 is small, retro, and comes in a variety of bright, fun colors. Ease-of-use coupled with a selfie mirror helps frame perfect shots.
Instax SP-3 Printer allows for instax quality prints straight from a smart phone in under 13 seconds for instant sharing as well.
GoPro Hero6 Black-- $499
The portability and power of GoPro puts it in a class by itself. The latest Hero6 Black captures fast-paced action in exquisite, ultra-HD clarity at 60 frames per second. The camera fits snuggly in any bag or backpack, making it the perfect companion for outdoor enthusiasts, mountain bikers, skiers or adventurers. By integrating the camera with a smart phone, video playback, in-app editing and sharing capabilities are seamless. Among its new features, the GoPro Hero6 Black has underwater shooting capabilities down to 33 feet, advanced image stabilization, voice and touch controls and night modes for shooting in low-light conditions.
Nikon D3400 DSLR Camera 2-Lens Kit– $596.95
Designed to produce consistent, quality images and work seamlessly with smart phones, the 24.2 megapixel Nikon D3400 is a powerful starter DSLR. With 18-55mm and 70-300mm lenses, this camera kit can tackle any photographic subject from close-range to distance. For exceptional detail, dynamic range, low-light capabilities and color accuracy, this Nikon delivers.
Sony RX100 Mark III - $748
Sony's RX100 Mark III is still one of the most desirable point and shoot cameras on the market. Small enough to fit in a pocket yet powerful enough to deliver spectacular photos, this camera outperforms others in the same price class. The RX100 Mark III's speed, combined with its large sensor, can capture beautiful, crisp images and full HD video effortlessly. The small camera even sports a pop-up electronic viewfinder for shutterbugs looking to upgrade from taking pictures on phones.
Give the Gift of Photography Education at "Unique University"
Unique Photo is the top destination for photography education in New Jersey, hosting thousands of amateur and professional photographers annually for its classes. "Unique University" now offers the convenience of online instruction and instructors include world famous photographers, industry guest lecturers and Unique Photo's professional staff. Classes range from camera basics and black and white imagery to landscape, portraiture, fashion, action photography, lighting, drone flying, post-production photoshop and more. Shutterbugs will appreciate the opportunity to learn to take better pictures or to get the most from their new cameras and equipment.
ABOUT UNIQUE PHOTO:
Unique Photo is New Jersey's largest camera and video superstore offering the latest in photographic products and imaging technology. Its 50,000-square-foot, state-of-the-art facility in Fairfield, N.J. features a spacious photography retail store, multi-media learning center, professional photo lab, meeting space, gourmet coffee bar and WiFi lounge. Unique Photo recently expanded to Hoboken with a second store providing a full line of services for its customers. Additionally, Unique Photo is the top destination for photography education in New Jersey, hosting more than 1,000 amateur and professional photographers monthly for its classes. "Unique University" instructors include world famous photographers, industry guest lecturers and Unique Photo's professional staff. For more information, visit http://www.uniquephoto.com or call 973-377-2007.
###