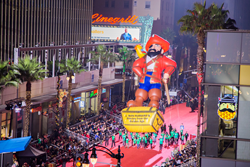 HOLLYWOOD, Calif. (PRWEB) November 28, 2017
An estimated half million eager fans packed both sides of the three-mile route along Hollywood and Sunset Boulevards for the 86th anniversary of the Hollywood Christmas Parade benefitting the US Marine Corps Toys for Tots. The over 5,000 participants in the parade included the 20 balloon wranglers with the 5-story tall Captain Tom Bristol, the main character from L. Ron Hubbard's "Under the Black Ensign" – one of 80 books published in the Stories from the Golden Age.
The magic of the parade once again proved itself in bringing Hollywood together as it garnered the help of over 500 local volunteers and dozens of local businesses, schools and community service groups. It has become the biggest Christmas Parade in the world with the largest red carpet and the most celebrity participants.
The evening started with a holiday concert on Hollywood Blvd featuring an all-star cast including: The Village People, Cee Lo Green, Ruben Studdard, Julia Ara, Breanna Yde, Nick Fradiani, Tom Dixon and the Band of Merrymakers. Directly following, the parade kicked off with hosts Erik Estrada and Laura McKenzie welcoming the USMC Marching Band representing the Toys for Tots.
In addition to the above celebrity musicians performing, there were dozens of television and movie celebrities on hand: Lou Diamond Philips from La Bamba, Deirdre Hall and Kate Linder from the Young and the Restless, Jerry Mathers and Tony Dow celebrating the 60th anniversary of Leave to Beaver, Burt Ward from Batman and Jermaine Dupri Producer, Songwriter and Rapper. Participants also included Secretary of State Alex Padilla and Council Member Mitch O'Farrell, whose support literally makes the parade possible. Eighteen marching bands from around the world and 4 equestrian units along with ten large helium balloons and their wranglers, including Captain Tom Bristol, rounded out the over 5,000 participants traveling down Hollywood Boulevard.
The parade concluded with Santa Claus wishing all a wonderful and joyous holiday season.
Once again, Author Services, Inc. was the location for the red carpet and step & repeat, which has grown to nearly 200 feet in length to accommodate the parade's growth and volume of media covering the event. Author Services additionally served as the parade's green room and was filled to capacity with nearly 400 guests.
For more information, go to https://www.GalaxyPress.com