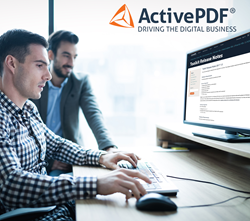 "Toolkit sets the industry standard for server-based PDF manipulation – but that doesn't mean we slow down!"
LAGUNA NIGUEL, Calif. (PRWEB) December 07, 2017
ActivePDF, a global leader in award-winning PDF automation software, recently announced a major enhancement release of the company's flagship product Toolkit and the addition of Toolkit Expansion Pack.
The latest release of Toolkit includes new optional parameters and advanced enhancements including Append Mode, Bookmarks, Media Box boundaries, and Page-Label support. For more information, read the Toolkit Release Notes.
Tim Sullivan, CEO and Chief Architect at ActivePDF says, "With hundreds of methods and properties, Toolkit sets the industry standard for server-based PDF manipulation – but that doesn't mean we slow down! We continually listen to our users and seek to solve their pain points. The result of this is Toolkit – the most adaptable PDF solution on the market."
Along with Toolkit, ActivePDF also released Toolkit Expansion Pack, a set of server-based components that work together to flatten, extract, print both text and image files.
"We built Toolkit Expansion Pack to give Toolkit users the ability to do even more within their workflow applications," adds Sullivan. "Bringing together three robust components in one package under the Toolkit brand, delivers a more complete solution."
Toolkit Expansion Pack features the following components and functions:

Rasterizer – Convert PDF files into single or multiple flattened images, such as JPEG, TIFF, multi-page TIFF, PNG and other pixel-based files. Customize images by adding annotations upon output, set gamma corrections, color inversions, and more. Rasterizer also sets dots-per-inch (DPI) of rendered pages, allowing resolution control for higher quality printing.
Xtractor – A versatile server-based solution that captures and extracts text and images from PDF files accurately and securely. Extracted text and images can then be used to automate document workflow, enhance usability, add to a database and archive.
Spooler – Programmatically print PDF files to a specified printer with configurable settings. Spooler provides flexibility when printing PDF files through N-Up printing which shrinks PDF files and prints two pages, side-by-side on a single document, allows print to scale, and sets print properties related to the printer and the generation of the PDF files.
Toolkit Expansion Pack requires a Toolkit license and a Toolkit Expansion Pack license. Other requirements include Microsoft® Windows Server 2008 R2, 2012 R2 or 2016; Microsoft® .NET Framework 4.5; 350MB of RAM; and 175MB of hard disk space. Learn more about Toolkit Expansion Pack.
Pricing and Availability
Both DocGenius Toolkit and Toolkit Expansion Pack are available now. For additional information on pricing and features, visit ActivePDF.com/products/toolkit.
About ActivePDF
Founded 2000, ActivePDF Inc., is privately held and is a global provider of PDF tools for integration within virtually any business process, including Enterprise Content Management (ECM), Document Management, and Workflow solutions. The ActivePDF suite is designed to streamline large volumes of rendering and assembly of content into accurate, secure and accessible PDFs. We serve over 25,000 customers from 90 countries in numerous industries including: Healthcare, Financial, Education, Manufacturing, Utilities, Engineering, Legal and Government. For more company information, visit ActivePDF at https://www.activepdf.com.
ACTIVEPDF and the ActivePDF Logo are registered trademarks of ActivePDF, Inc. All other trademarks are property of their respective owners.