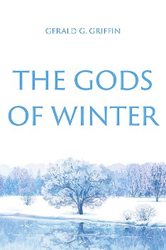 "This harrowing story will shake you to your core … and keep you reading to the very last page." - Robert Fletcher, CEO of Strategic Book Publishing and Rights Agency
(PRWEB) December 13, 2017
Gerald G. Griffin's says that "The Gods of Winter" tells "in part, what happened in my personal experiences, which compelled me to write the novel."
The author describes it best as "a story of pondering gasps, ending in deep awe."
Meet Bob Daniels, who against all odds and misfortune in his life becomes a noted psychologist. He's likable, highly intelligent, cunning, and he possesses an unusual sense of humor. His father, a troubled war veteran, fearfully warns Bob of his perilous fate, attributing it to a prophesy about madness that took place during wartime.
In unlikely fashion, Bob meets Gloria Hopkins, a noted stage performer who shows a zest for life. They fall deeply in love, but it's thwarted by an inexplicable force of madness. The two are pulled into a harrowing journey in which they face impossible odds and circumstances guided by the unknown. The Gods of Winter contains humor, sadness, strife, and tragedy, all making for an unexpected ending.
Watch the video book trailer at: https://youtu.be/-5sqL8YGExo
About the Author: Gerald G. Griffin grew up in Flint, Michigan, and is a Ph.D. graduate of Michigan State University. He now lives in Gainesville, Georgia. His previous novels are "The Corruptors," "The Death Disciple," "The Last Coming," and "Of Good and Evil."
"This harrowing story will shake you to your core … and keep you reading to the very last page. We are thrilled to announce its release," said Robert Fletcher, CEO of Strategic Book Publishing and Rights Agency.
THE GODS OF WINTER (ISBN: 978-1-946540-10-2) is now available for $19.50 and can be ordered through the publisher's website:
http://sbprabooks.com/GeraldGGriffin or at Amazon.com or Barnesandnoble.com.
WHOLESALERS: This book is distributed by Ingram Books and other wholesale distributors. Contact your representative with the ISBN for purchase. Wholesale purchase for retailers, universities, libraries, and other organizations is also available through the publisher; please email bookorder(at)sbpra(dot)net.