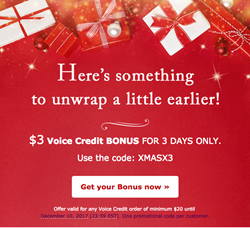 British expats worldwide receive free calling credit to call Great Britain as an early Christmas gift from RingBritain.com.
Atlanta, Georgia (PRWEB) December 06, 2017
RingBritain.com, the telco that serves British expats and travellers worldwide, launches a new Bonus campaign that can bring anyone up to 300 international minutes to call Great Britain. The Bonus can also be used to call other destinations, and applies on every order of $20 Voice Credit placed on RingBritain.com between December 8-10, 2017, using coupon XMASX3.
The $3 Bonus balance as well as the main $20 balance never expires. It can be used to place calls whenever needed using RingBritain access numbers or the calling app. No contract is required, and it takes seconds to order the $20 Voice Credit that brings one the Bonus.
The mechanism is simple. One needs to get on RingBritain.com and use the coupon XMASX3 while placing an order of minimum $20 Voice Credit. They will automatically receive $3 free credit to call cellular phones and landlines in the United Kingdom, as well as send text messages there. Credit never expires. It can be used whenever necessary in the future for calls to UK or elsewhere. The rate to call landlines in the UK is 1 ¢/minute, while calling mobile phones costs 2.9 ¢/minute, no matter where from.
The best rate to call Great Britain though is using the United Kingdom Unlimited, available for as little as $4.99/month on RingBritain.com. Payment is flexible. Any currency is accepted and all major cards, plus PayPal.
To benefit of the Christmas Bonus, existing customers only need to go with the flow, whereas the new ones will need to open an account before placing the order or within the buying process according to the website flow and guidelines. The account is free and comes with several free features and 24/7 Support, updated call records, and list of transactions.
For the 5 million British expats abroad this is a good moment to get free credit for their phone calls home, around Christmas, as well as save on calling cards. The calling service on RingBritain.com is one of the most economical on the global market according to reviewers on Trustpilot and other similar platforms.
The website makes available not only an app for smartphone users, but also calls from any phone without being dependent on an Internet connection. Access numbers also assure the highest call quality. Plus, credit is available online, and there is no need to run to the store for more balance.
Promotions are frequent with RingBritain.com, especially on Facebook. Those interested to stay updated can tap "Get offers" in the footer of the website to be notified about future promos by email, or follow the Facebook page for regular contests and giveaway actions: https://www.facebook.com/RingBritain/
Another plus of RingBritain when it comes to rewarding its customers is the loyalty program. One can get extra minutes in the long run, that have no expiration date. More details can be found on the website.
Expats on RingBritain.com also use Virtual Numbers. That means they live in the USA for example, but own a number in UK, so that their family there can call them as much as they need to without any roaming costs.
RingBritain.com is a website serving expats, travelers and USA, Canada and Australia residents who need long distance telecom services. It is a brand of KeepCalling, a global telecommunications company registered in 2002 in USA, who launched International Homesickness Day for the first time in history in 2016. Presently, KeepCalling provides its services to hundreds of thousands of consumers , with a focus on customer satisfaction. KeepCalling was listed by Inc 5000 as one of the fastest growing companies in the USA for 5 consecutive years.