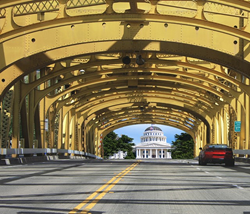 Municipalities are relatively simple to breach, and they collect an abundance of valuable data, from taxpayer and credit card information to pension data.
HOBOKEN, N.J. (PRWEB) December 21, 2017
A NYC area government technology consultant and MSP reviews the cyber-security challenges facing municipalities in a new article on the eMazzanti Technologies website. The firm discusses how the reality of numerous priorities competing for limited tax dollars results in less-than-ideal resource allocations to address growing threats.
In the informative article, the company also identifies the need for top-down leadership to drive successful cyber-security initiatives. Successful efforts employ updated technologies to increase security, often resulting in the additional benefit of improved responsiveness.
"Municipalities offer an easy target for bad actors," stated Carl Mazzanti, President of eMazzanti Technologies. "They are relatively simple to breach, and they collect an abundance of valuable data, from taxpayer and credit card information to pension data."
Below are a few excerpts from the article, "Cyber-security for Municipalities: Balancing Risk and Budget."
"From WannaCry ransomware to Russian collusion, cyber-warfare has taken a turn. According to Carl Mazzanti, President of eMazzanti Technologies, local governments are the new battleground. With increasing threats and shrinking budgets, effective cyber-security for municipalities requires a precarious balancing act from our public officials."
Competing for Tax Dollars
"City officials face the task of allocating limited tax dollars among multiple initiatives, from public safety to health and human services. Often, information technology (IT) accounts for less than 0.1% of the overall municipal budget. As a result, municipalities typically struggle to offer the competitive salaries that skilled IT professionals demand…"
Leadership and Public Support Required
"To be successful, a cyber-security initiative must proceed from the top down, with a directive from the mayor, chief financial officer or other city officials. Even with leadership from city officials, a successful cyber-security initiative requires funding. When citizens voice their concerns over the safety of their data, IT will begin to receive a more adequate share of the funds available…"
Increased Security, Responsiveness and Trust
"By leveraging technology responsibly, a municipality can increase both security and responsiveness. Updated systems with enhanced cyber-security often result in reduced downtime and streamlined operations. That efficiency in turn builds trust with the citizens served by the municipality…"
Expert Guidance
Completing effective cyber-security initiatives within budgetary restrictions requires careful planning. Cities and towns looking to better secure digital assets or implement cloud solutions for municipal applications can contact the government IT consultants at eMazzanti Technologies. Its certified engineers provide expert guidance to achieve cost-effective cyber-security solutions.
Related resource information:
3 Security Advantages of Managed IT Services
Guard Depot Online Network Security Store Offers Enterprise-grade Small Business Cyber-security
About eMazzanti Technologies
eMazzanti's team of trained, certified IT experts rapidly deliver retail and payment technology, digital marketing services, cloud and mobile solutions, multi-site implementations, 24×7 outsourced network management, remote monitoring and support to increase productivity, data security and revenue growth for clients ranging from law firms to high-end global retailers.
eMazzanti has made the Inc. 5000 list eight years running, is a 2015, 2013 and 2012 Microsoft Partner of the Year, 2016 NJ Business of the Year, 5X WatchGuard Partner of the Year and one of the TOP 200 U.S. Microsoft Partners! Contact: 1-866-362-9926, info(at)emazzanti(dot)net or http://www.emazzanti.net Twitter: @emazzanti Facebook: Facebook.com/emazzantitechnologies.