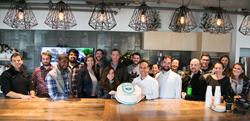 'In one year, Cybereason's RansomFree tool has had a profound global impact on the ransomware epidemic and we are looking forward to our 1 millionth installation sometime next year,' said Lior Div, CEO and co-founder, Cybereason
BOSTON (PRWEB) December 21, 2017
Cybereason, creators of the leading cybersecurity data analytics platform including endpoint detection and response, next-generation antivirus, and active monitoring services, today celebrates RansomFree's first birthday. Since the company launched the free anti-ransomware tool one year ago today, more than 550,000 installations have occurred and millions of dollars in ransom payments have been stopped. Cybereason celebrated the milestone with birthday celebrations in its Boston, Tel Aviv, London, and Tokyo offices.
Ransomware is a global epidemic impacting all types of businesses, non-profit organizations, law enforcement agencies, and consumers. RansomFree is the cybersecurity industry's first free anti-ransomware solution designed to detect and stop more than 99 percent of ransomware variants from encrypting files. In 2017, RansomFree provided protection against hundreds of new ransomware strains, including WannaCry, Not Petya, and Bad Rabbit.
"In one year, Cybereason's RansomFree tool has had a profound global impact on the ransomware epidemic and we are looking forward to our 1 millionth installation sometime next year. In 2017, ransomware attacks have negatively impacted our economy and businesses of all sizes have suffered. In addition, millions of consumers around the world have faced the difficult decision of paying a ransom or losing valuable, personal memories and information," said Lior Div, CEO and co-founder, Cybereason.
Many journalists and security experts have written about RansomFree and praised the free anti-ransomware tool, including:
PC Magazine: Neil Rubenking, Lead Analyst, Security:
"The consequences of a ransomware attack are dire, so a second layer of defense like Cybereason RansomFree is a great idea. It's free; go ahead and install it. RansomFree installs in a snap and immediately starts protecting your system against ransomware."
Lifehacker: Alan Henry
"Best of all, Ransomfree is, as the name implies, completely free."
Softpedia: Vlad Constantinescu
"Cybereason RansomFree is a reliable application that can protect your computer against ransomware attacks."
TechCentral: Mike Williams
"Setup couldn't be easier. There's nothing to do or configure, just install the program and it runs in the background."
About RansomFree
RansomFree was created for small businesses, police and fire departments, non-profits, law enforcement agencies, and consumers. It is quick and simple to install and provides immediate ransomware protection. RansomFree stops ransomware from encrypting networks for PCs running Windows 7, 8, and 10, Windows 2010 R2, and Windows 2008 R2.
About Cybereason
Cybereason, creators of the leading cybersecurity data analytics platform, gives the advantage back to the defender through a completely new approach to cybersecurity. Cybereason offers endpoint detection and response (EDR), next-generation antivirus (NGAV), and active monitoring services, all powered by its proprietary data analytics platform. The Cybereason suite of products provides unmatched visibility, increases analyst efficiency and effectiveness, and reduces security risk. Cybereason is privately held, having raised $189 million from top-tier VCs, and is headquartered in Boston, with offices in London, Tel Aviv, and Tokyo.
Learn more: https://www.cybereason.com/
Follow us: Blog | Twitter | Facebook
Media Contact:
Bill Keeler
Director, Public Relations
Cybereason
bill.keeler@cybereason.com
(929) 259-3261