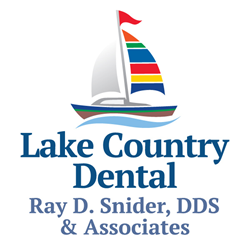 I hated dealing with dentures. They caused my gums to be sore and they fell out all the time, which was embarrassing. Dr. Snider gave me my life back with his implant-supported bridge.
SAGINAW, Texas (PRWEB) January 09, 2018
Three million Americans presently have a dental implant and each year, half a million more Americans are getting dental implants, according to The American Academy of Implant Dentistry. This factor combined with an aging public, a rise in periodontal disease, and patients increasingly requesting less invasive dental procedures, has been addressed by Lake Country Dental. This dental practice serves patients in the Saginaw and Fort Worth areas of Texas. Lake Country Dental is dedicating an abundance of resources to servicing patients in need of dental implants and implant-supported dentures in 2018 to meet this demand.
Missing teeth can result in a feeling of insecurity, it can make a person feel self-conscious and make them want a lasting, healthy remedy for their smile. Dr. Ray Snider, DDS, of Lake Country Dental is a dental implant expert and he and his team of doctors specialize in dental implants.
Removable bridges are no longer the only choice for fixing missing teeth. Not fixing gaps in the smile from missing teeth can cause facial muscles to droop and may make an individual appear older than they are. Aside from the esthetic benefits of dental implants, gaps in the smile can become a breeding place for harmful bacteria; dental implants can prevent other teeth from shifting and can balance out the smile. A dental implant is essentially a titanium screw that is surgically implanted into the jawbone. The bone and implant biologically come together and then several weeks later, once the mouth has healed, posts and crowns or fixed dentures are attached. This is a surgical process with multiple steps, however, most patients at Lake Country Dental say they experienced only minimal discomfort and the lasting benefits far outweighed this mild pain. This process is made comfortable with local anesthesia and the end result is a permanent, healthy smile that allows the patient to eat and speak with ease.
For patients that are tired of dealing with the hassles of dentures and the accompanying sore gums, accidental fall out, and messy adhesives, there is another solution called implant-supported dentures. Also known as an all-on-4 denture, implant-supported dentures offer a permanent dental solution for replacing an entire arch of teeth with a single dental bridge that creates a natural look and feel, all while providing proper function once again. Patients that undergo this procedure can enjoy eating their favorite foods again. "I hated dealing with dentures. They caused my gums to be sore and they fell out all the time, which was embarrassing. Dr. Snider gave me my life back with his implant-supported bridge," a patient of Dr. Snider said. An implant-supported denture is a type of overdenture that is supported by and attached to implants. A regular denture rests on the gums and is not supported by implants. "Implant-supported dentures can be a remarkable improvement over removable dentures. I've seen it change a patient's self-esteem and improve their quality of life. Implants and implant-supported dentures are an area of dentistry we are focusing extra attention on with each passing year to meet an increasing demand and need among our patients," Dr. Snider said.
ABOUT LAKE COUNTRY DENTAL:
Lake Country Dental in Saginaw/Fort Worth is dedicated to providing quality, personalized oral care for families. The dentists perform a variety of cosmetic, restorative, implant, general dentistry, and family dentistry services on people of all ages. They also offer several payment options so dental care can be a higher priority for their patients.
CONTACT INFORMATION:
Lake Country Dental
8461 Boat Club Road
Fort Worth, TX 76179
Phone: 817-236-8771