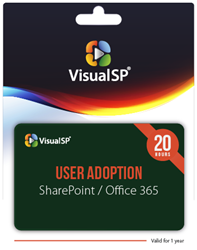 User adoption is not a project... it must be an ongoing service. -Eric Eaton
CHICAGO (PRWEB) January 11, 2018
"We've found that, with SharePoint and Office 365, employees' productivity is directly proportional to the depth of their adoption. Extensive use of the platforms enables the emergence of efficient business processes, faster completion of tasks, and a variety of collaboration opportunities", says Asif Rehmani, CEO at VisualSP and founder of the VisualSP Help System.
The new service offering presents a unique opportunity for companies to maximize returns on their technological investments. A company can always help employees use SharePoint much more than they do now. And, Office 365 offers an even greater potential gain.
"When we launched the VisualSP Help System back in 2012, we didn't know that, today, the application would attract over 1.5 million users and be helping companies boost user adoption by over 30% while reducing the burden on their IT support team by as much as 28%. This time, we are more certain. We've found the need for our UAaaS in the market and we are going to help a lot of companies", adds Rehmani.
Productivity and collaboration remains the essential pursuits by companies of all sizes; SharePoint and Office 365 applications remain the preferred tools. But, user adoption remains a major challenge.
Having been a SharePoint expert for over 15 years, Eric Eaton, Services Lead at VisualSP, reminds executives: "User adoption is not an accident... it's the result of effort, expertise, and strategic simplicity".
In the sphere of SharePoint and Office 365 adoption, many experts share a similar observation: the idea of "build it; they will come" still dictates many strategies; that's why many initiatives tend to stagnate and many more simply fail.
Eaton observes many more roadblocks and friction points, including: getting lost in unnecessary complexities; treating the efforts as a project; lacking a workable governance policy; and taking the wrong approach on training and support.
On the subject, many talks at conferences in the industry cover a lot of important areas, including conceptual perspectives related to vision, communication, and behavioral change. But, Asif points out the challenge that executives still face: translating all those complexities into functional strategies and action plans that are practical in real life for busy IT teams. "Our service packages are about embarking on proven action steps; no time is wasted".
On the foundation of simplicity and precision, Eaton elaborates: "The guiding principle of our service is strategic simplicity. We help you pick a path and get started in the right direction quickly and simply." He continues: "We've done this before; we've done it many times. Our primary job is to help you avoid mistakes that we've observed other companies make and focus your resources on steps that actually work."
For many firms, it has proven efficient to leverage the expertise of an expert coach, an external resource who has broader exposure to best practices and the ever-evolving capabilities in the ecosystem. Also, a dedicated, external resource is less likely to get side-tracked onto activities that don't directly promote user adoption. With his 4 Tenets of User Adoption, Eric Eaton may just have the ideas that your organization needs.
To learn more about the new User Adoption as a Service from VisualSP, visit the UAaaS information page or contact VisualSP sales at 630-786-7026 or sales(at)visualsp(dot)com.
*****
VisualSP® has been a leader in e-learning/performance support integration with SharePoint since 2004. The company introduced its on-demand, inline Help System for SharePoint to assist end users in developing mastery over common SharePoint tasks. In 2016, VisualSP expanded its technology solutions to online Microsoft products. The company is led by Author and Microsoft MVP Asif Rehmani. To learn more, visit http://www.visualsp.com.