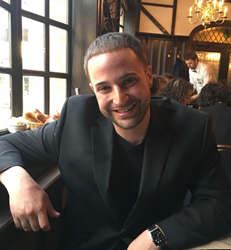 Eric Pikul, author of A Road Less Traveled
STATEN ISLAND, N.Y. (PRWEB) January 12, 2018
Eric Thomas Pikul received a BS in Mass Communications with a minor in Business from St John's University in Queens NY. He has always had a deep passion for writing and reading. He appreciates all forms of literature. This collection of poems serves as the first stop on his journey in becoming a recognized author. He does readings in local NYC venues. Currently, he has a career in the digital advertising field and resides in Brooklyn NY.
Explains the author, "I share each of these poems with you from my heart and from my soul. Every verse takes on new meaning and delivers a specific message to the reader. Universally relatable, this collection provides both motivation and insight into a wealth of topics we all deal with. Without further a due take this walk with me down A Road Less Traveled."
Boulevard Books is an educational publishing company for the 21st century. Founded by educator and author Avi Gvili in 2010, it aims to bring to the public the voices of the new century.