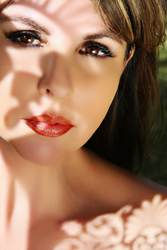 It's a great way to kick off the new year and I am so proud of the first new single 'Pretty Roses'.
NASHVILLE, Tenn. (PRWEB) January 16, 2018
Singer-songwriter Raquel Aurilia announced today she has a new single "Pretty Roses" set to release on Valentine's Day. To kick off the new release she will debut the new single with a live performance on "TODAY IN NASHVILLE" TV program on WSMV-TV on February 8th at 11am CT.
"I'm so excited about the new music I have coming out in 2018," says Raquel Aurilia. "It's a great way to kick off the new year and I am so proud of the first new single 'Pretty Roses'."
Raquel co-wrote "Pretty Roses" with songwriter Jennifer Adan (co-writer of Blake Shelton's #1 song "She Wouldn't Be Gone"), and Jonathan Hamby (keyboard player for Carrie Underwood). Producer / Engineer Mike Lattanzi collaborated with Raquel recording and mastering the song at the exclusive Lattitude Studio South in Leiper's Fork in the Greater Nashville area.
Raquel Aurilia is a singer-songwriter who has toured opening 25 U.S. cities for John Waite – including an upcoming concert scheduled January 19 in Phoenix, AZ. Aurilia has opened for B.B. King, Gin Blossoms, Kenny Loggins, Michael McDonald, Lisa Loeb, Eddie Money, Pat Benatar, and Riders in the Sky. Aurilia has worked with Grammy Award winning producer Tony Papa (James Brown, Willie Nelson, John Denver) and Gardner Cole (Madonna, Jodi Whatley), as well as Grammy nominated producer Billy Smiley (Bebe and Cece Winans, Vince Gill, Johnny Cash) in Nashville. Aurilia's music has been featured in MTV's hit series "The Hills," "The City" and "Taking the Stage."  
Musicians on "Pretty Roses":
Drums - Tommy Harden
Bass - David Roe Rorick
Guitars - Kenny Vaughan 
Cello - Jenny Lynn Young 
Background vocals - Randall Thomas, Ana Hudgins 
Keyboards, programming and additional guitars - Michael Lattanzi 
Upcoming Tour Dates - Raquel Aurilia
January 19 – Phoenix – BLK LIVE (opening for John Waite)
February 8 - Nashville - The Row
Raquel's live TV performance debut of "Pretty Roses" will be broadcast in Nashville on WSMV-TV NBC4's "TODAY IN NASHVILLE" which airs locally at 11am CT. The show can also be viewed online at http://www.TodayInNashville.com. "Pretty Roses" single will be available for purchase on iTunes on February 14, 2018.
Weblinks: http://www.RaquelAurilia.com / http://www.twitter.com/raquelaurilia / https://www.facebook.com/RaquelAurilia / http://www.instagram.com/raquelaurilia / http://www.about.me/raquelaurilia /