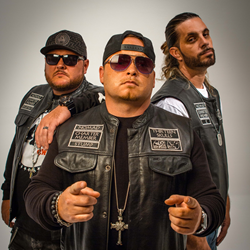 "The track 'Think It's A Game' was produced by Stump and David Ray. I4NI were once label mates with Bubba Sparxxx while working on the I4NI project. Once Bubba heard the track he jumped aboard. We loved the song as soon as we created it," said Stump from I4NI
NASHVILLE, Tenn. (PRWEB) January 17, 2018
Southern Hip-Hop/Rock group I4NI have officially signed a long-term deal with Thirteen Skulls Entertainment for the release of their upcoming new album this spring. The group has released the new video for "Think It's A Game" featuring Bubba Sparxxx online at https://youtu.be/lSv387QzJNA to give fans their first taste of new music under the recently signed partnership.
"The track 'Think It's A Game' was produced by Stump and David Ray. I4NI were once label mates with Bubba Sparxxx while working on the I4NI project. Once Bubba heard the track he jumped aboard. We loved the song as soon as we created it," said Stump. "At the time we just felt it was a little on the edge or too rock for the project we were producing with our previous label partner. Fortunately, we kept it for ourselves because it's perfect for what we're doing with Thirteen Skulls. It was always one of our favorite records, and we definitely planned on putting it out. Jon 'JC' Conner and David Ray (Dammitboy Entertainment) recreated and updated the music, and now the timing is right to give it to our fans."
I4NI have quietly become a cornerstone of the country rap scene from their production credits for chart-toppers like Big Smo, the Moonshine Bandits, and The LACS. If the members don't have their heads in the studio creating the music, their production company Dammit Boy Entertainment is crafting the vision behind music videos for Big Smo, Bubba Sparxxx, Big Chuck and Lenny Cooper which have generated millions of plays and views. I4NI is a success story of rising above the odds and smashing stereotypes. I4NI delivers versatile wordplay, clever hooks, infectious production and subliminal messages which envies any act currently charting.
Collectively, I4NI has amassed millions of views on YouTube, and the group scored one of the best-selling singles on the "Mud Digger" compilation series with the track "When I'm Gone" featuring Bubba Sparxxx. The track continues to rack up plays on both YouTube and Spotify and has eclipsed the 2 million mark. This exposure has widened the I4NI fan base and created pent-up anticipation for new music from the group.
Thirteen Skulls Entertainment is the new label founded by music industry veteran Ron A. Spaulding and Major League Baseball Hall of Famer Frank Thomas. Thirteen Skulls Entertainment is more than just music, it's a lifestyle for fans who love to have fun, share a couple drinks, and roll through the heartland with the windows rolled down. Intense rhymes, backwoods bravado, a little moonshine and American pride all come together in the melting pot that has been dubbed 'AmeriFlow'. Together with the help of Thirteen Skulls, I4NI are ready to show the world that the brand new genre on the scene called AmeriFlow is more than just a game!
For more information please visit http://www.thirteenskullsent.com and http://www.i4NiNation.com