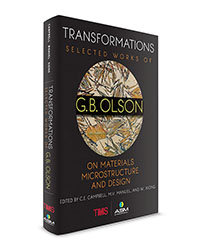 "Greg has been a great friend and inspiration, a true scholar and a gentleman. I was able to discuss science with him. I sometimes felt inadequate afterward, though never disheartened."
MATERIALS PARK, Ohio (PRWEB) January 29, 2018
ASM International and The Minerals, Metals and Materials Society (TMS) have collaborated to present a collection of the selected works of Dr. Greg B. Olson. Papers chosen for the collection were selected by editors Carelyn E. Campbell, Michele V. Manuel, and Wei Xiong with input from Dr. Olson. The papers are organized into two parts, Martensite and Materials Design.
Part I: Martensite, with an Introduction by Sir Harry Bhadeshia, emphasizes Dr. Olson's work to develop a dislocation theory for martensite transformations, to improve the understanding of the statistical nature of martensite nucleation, and to expand the use of quantitative microscopy to characterize phase transformations.
Part II: Materials Design, with an Introduction by Dr. Charles Kuehmann, FASM, focuses on the application of a systems design approach to materials and the development of integrated computational design curriculum for undergraduate education.
Harry Bhadeshia states in his introduction, "Greg has been a great friend and inspiration, a true scholar and a gentleman. I was able to discuss science with him. I sometimes felt inadequate afterward, though never disheartened."
"Transformations: Selected works of G.B. Olson on Materials, Microstructure, and Design" ($149.00, $129.00 ASM Members, 547 pages, hardcover ISBN: 978-1-62708-137-5, eBook EISBN: 978-1-62708-138-2) is available at http://www.asminternational.org/transformations or by calling the ASM International Service Center at 800.336.5152.
ASM International connects materials professionals and their organizations to the resources necessary to provide professional development and to improve materials performance. As the world's largest and most established materials information society, ASM engages members through a global network of peers and provides access to trusted materials information through reference content and data, education courses, international events, and applied research.
To learn more about ASM International, visit asminternational.org or call 440.338.5151 to speak with an ASM International representative.