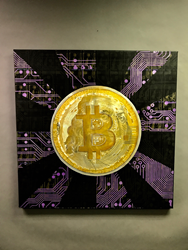 Former Master Counterfeiter Arthur J. Williams Jr's story is Hollywood's Best Untold Gangster Story!
LOS ANGELES (PRWEB) January 26, 2018
Former Master Counterfeiter Arthur J. Williams Jr turned famous artist has pulled the ultimate American redemption story and now he is turning heads with his art and giving back in a big way to charities around the country! Artie for short, was the notorious Chicago gangster who produced an estimated $10 million dollars worth of the supposedly impossible to counterfeit 1996 hundred-dollar bills. He was later caught, sentenced and eventually did six and a half years in Federal Prison after he refused to give the Feds any information on any other parties related.
While in prison the most interesting thing happened, Artie took an art class and even began to read books from the legendary master artists of the Renaissance like Leonardo Da Vinci and Michelangelo. His meticulous hardworking efforts along side his natural artistic talent ensured that he would surely be one of the greats as well! Artie's love for once printing money turned into a new love for painting money instead. After prison he went completely legit and is now producing extremely valuable art for celebrities and collectors all over the world. With the help of God and loved ones, Artie turned his life completely around and is now producing more art than ever to aid and assist those less fortunate.
As a poor kid growing up in the projects of Chicago, Artie knows what it is like to have very little. That is why he has been donating his art to be auctioned off at private events across the country since his newfound artistic fame has been revealed. For example, recently in Miami, Benson Connex's Founder, Chicago native and Artie's Event Coordinator, Joe Benson, set up a private charity crypto art auction to sell Artie's artwork at an elaborate facility through either cash, credit or for one of the first times in history cryptocurrencies. A large sum of money for a very unique, one-of-a-kind Ripple Crypto piece went to the The Windy City based charity I Grow Chicago on January 20th. I Grow Chicago, similar to Artie's turnaround story of redemption, is a reclaimed house operated by former gang members and ex-cons as a sanctuary against the violence in Chicago for all ages. To read more Click Here