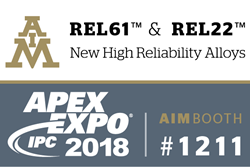 CRANSTON, R.I. (PRWEB) January 29, 2018
AIM Solder, a leading global manufacturer of solder assembly materials for the electronics industry, is pleased to announce their upcoming attendance at IPC APEX EXPO 2018 taking place February 27 – March 1, 2018 at the San Diego Convention Center in San Diego, California. AIM will highlight their revolutionary REL61™ and REL22™ lead-free solder alloys, along with their full line of solder assembly materials.
AIM REL61 was developed to provide PCB assemblers and designers with an enhanced reliability, cost-effective replacement for SAC305 and other low/no silver alloys. REL61 outperforms all lead-free alloys in durability, wetting performance, thermal cycling performance, and BTC void performance. Available in paste, wire and bar solder formats, REL61 can be incorporated into all phases of PCB assembly. For the most extreme operating environments be sure to learn about REL22. AIM's innovative REL alloys are engineered for reliability, usability, and cost effectiveness.
Along with their REL products, AIM will showcase its full line of advanced solder materials, including its solder pastes, liquid fluxes, tin/lead and lead-free alloys. Visit AIM at IPC APEX EXPO 2018 at booth #1211 at the San Diego Convention Center, San Diego, CA for more information and to speak with one of AIM's knowledgeable staff members.
About AIM
Headquartered in Montreal, Canada, AIM Solder is a leading global manufacturer of assembly materials for the electronics industry with manufacturing, distribution and support facilities located throughout the world. AIM produces advanced solder products such as solder paste, liquid flux, cored wire, bar solder, epoxies, lead-free and halogen-free solder products, preforms, and specialty alloys such as indium and gold for a broad range of industries. A recipient of many prestigious SMT industry awards, AIM is strongly committed to innovative research and development of product and process improvement as well as providing customers with superior technical support, service and training. For more information about AIM, visit http://www.aimsolder.com.
Upcoming Events:
March 14-16, 2018 – Productronica China – Shanghai New International Expo Centre, Shanghai, China
March 28, 2018 – SMTA West Penn – DoubleTree Monroeville, Monroeville, PA
April 10, 2018 – SMTA Dallas – Plano Centre, Plano, TX