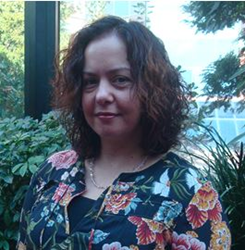 BRONX, N.Y. (PRWEB) January 29, 2018
Calvary Hospital has promoted Maria Georgopoulos to Director of the Bereavement Services Department. Ms. Georgopoulos replaces Sherry Schachter, who stepped down in January 2018. Ms. Georgopoulos is responsible for spearheading Calvary's efforts to expand the Hospital's professional learning programs, expand the bereavement services programs that meet regularly in the Bronx, Brooklyn and Manhattan, and increase the professional strength of the bereavement counselor staff.
Aside from her experience with Calvary since 2005, Ms. Georgopoulos has worked in the mental health profession in various other settings including The American Red Cross of Greater New York as a Caseworker after 9/11, at The Jewish Board of Family and Children's Services as a Case Manager and as Program Director with NHS during her time living in New Orleans. Ms. Georgopoulos' professional certifications include a Fellow in Thanatology with The Association for Death Education and Counseling (2005).
Ms. Georgopoulos is active in various professional teaching activities. These include the Annual Bereavement Course with Calvary Hospital and as Adjunct Faculty with The College of New Rochelle teaching courses in Mental Health Counseling such as Group Counseling and Mental Health Counseling Internship Practicum.
In addition to her work in bereavement, Ms. Georgopoulos is also a licensed mental health counselor with a private practice, has led many professional workshops related to the bereavement needs of children, adolescents and adults; provided counseling for diverse populations of people with varying difficulties; has been published in various outlets; and actively provides home visits to Calvary Hospice families who are at risk for complicated grief.
Ms. Georgopoulos graduated from New York University's Steinhardt School of Culture, Education and Human Development with a Master's in Mental Health Counseling and received her bachelor's degree from St. John's University with a major in psychology. She also received additional clinical training through The Institute for Contemporary Psychotherapy's Psychoanalytic Training program. Ms. Georgopoulos is bilingual, fluent in Greek and resides in Queens, NY.
About the Company:
Since 1899, Calvary Hospital has been the nation's only fully accredited acute care specialty hospital devoted exclusively to providing palliative care to adult patients with advanced cancer and other life-limiting illnesses. Each year, thousands of patients receive CalvaryCare throughout the greater New York area. To learn how Calvary can help you and your family, please visit http://www.calvaryhospital.org.