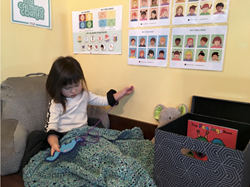 We are still having meltdowns, but they are far less intense and end much sooner.
(PRWEB) February 09, 2018
Helping children learn to manage their big feelings can sometimes feel like a big job, but nurturing emotional intelligence in children is easier when the lessons are delivered playful. This is the idea behind Generation Mindful, a social mission driven company on a mission to replace punitive child rearing methods with positive ones.
Mom of four and parent educator Suzanne Tucker is the company's founder and the creative force behind their newest product, the Time-In ToolKit. In designing this new kit, a collection of playful educational materials for parents and teachers alike, Tucker is on a mission to put an end to the use of time-outs and behavioral management charts around the world.
The concept of moving past punishment in parenting is of interest to mom of two Angela Chang, who taught in Montessori infant and toddler programs for six years before leaving to become a stay at home mom. Chang strives to create a Montessori environment in her own home for her two children, ages two and three, and she liked the idea that the ToolKit sets out to not only improve her child's social emotional skill sets, but hers as well.
Chang has been using the set of educational materials for about four weeks with both of her daughters and told us about her experiences. "In a Montessori classroom, you might find a peace corner or thinking chair — a space that a child can go when her feelings are too big or she just needs to take a break," Chang explains, "so the concept of using a Calming Corner and the other methods described inside the Time-In ToolKit's manual feel very natural for us as a family."
When discussing the usefulness of the program with her own daughters, Chang shared her trials and triumphs alike. "That whole first week was a nightmare. It was as if my three year old suddenly felt so much freedom in being able to fully express her emotions, but she just didn't know quite what to do with them yet."
But Chang didn't throw in the towel. Instead, she and her children kept using the mindfulness card game called PeaceMakers that came inside the ToolKit twice a day. As a family, they practiced being intentional about naming feelings and talking about the calming strategies they were using throughout the day. Chang explains, "I started seeing my very spirited 3-year-old pausing when I asked her if she wanted to try a calming strategy, and then she started running to the Calming Corner and choosing one all by herself".
Chang also started seeing her 2-year-old doing exactly what she saw her big sister doing, choosing her own calming strategies as well. "We are still having meltdowns" Chang admits, "but they are far less intense and end much sooner — and when they are over, we talk about what feelings were felt, what calming strategies were used, and what we might do the next time".
For more information on Generation Mindful's Time-In ToolKit,
visit https://www.genmindful.com/products/time-in-toolkit. For more information on Angela Chang and her parenting blog MOM-tessori, visit https://momtessorilife.com.