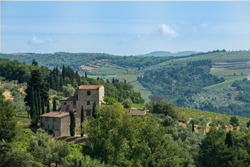 Where Real Estate Is Never Boring
POMPANO BEACH, Fla. (PRWEB) February 09, 2018
"Michelangelo's Romantic Tuscan Villa"
With Valentines Day almost here, Michelangelo's Tuscan farm house is for sale - the 11th-century farmhouse that Renaissance master Michelangelo di Lodovico Buonarroti Simoni purchased in 1549. Michelangelo was 72 when he bought it, just three years after completing the frescoes in the Sistine Chapel. Having stayed in the Buonarroti family for over 300 years, it has been preserved and restored by its current owner. The original deed held by Michelangelo, wherein he was described as a "dear sculptor and Florentine citizen," will be passed on to the new owner. A true historic treasure, it is awash with details dating from the 11th century.
Italy has always been associated with romance, the Tuscany region especially has enticed visitors to tour its Chianti vineyards, its Medieval fortressed hill towns with narrow winding streets and its lovely and romantic hot springs where one can immerse themselves in the warmth of the water at night with candles floating in the water. Rolling hills are ablaze with Cypresses, poppies, grass, sunflowers, and tiny village cafés.
Located on over six acres above the rolling hills, the 9,687 square feet of living space is contained in three multi-story buildings, including an ancient tower, believed to date back to the 11th century. The original architecture is accented throughout with large stone fireplaces, original wood-beamed and barrel ceilings, one of which displays the original brick. Consisting of eight bedrooms and seven full baths with multiple fireplaces, all rooms pay homage to the period and modern conveniences blend into the background. The kitchen has all the rustic romance of the early centuries with high-end appliances that do not take away from the original architecture. Grounds are park-like with lawns and mature plantings with a lemon orchard, olive grove and Chianti vineyards, as well as the original olive oil mill which has been turned into a guest house.
Live the romance of the 11th century in Renaissance master Michelangelo's own Tuscan farmhouse in the rolling hills and receive a copy of his original deed of ownership. Priced at $7.5 million. The listing is held by Handsome Properties International.
Real estate is never boring at TopTenRealEstateDeals. Check out today's best celebrity, entertaining and unusual real estate news stories of the week.