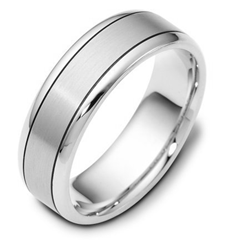 Our dedication to delivering high quality products and services are paramount to our business.
MINNEAPOLIS (PRWEB) February 10, 2018
WeddingBands.com a leading online seller of luxury wedding bands and eternity rings, announced today it would be expanding their product line into a Facebook Shop. The company, which prides itself on crafting unique men's and women's wedding bands in gold, platinum, and other precious metals, will feature rings for purchase on their Facebook Page. WeddingBands.com, plans to launch the Facebook Shop during the Spring of 2018, which many consider this the start of wedding season. The WeddingBands.com Facebook page will be another destination to browse and purchase fine wedding rings, eternity bands, and anniversary rings. All rings are made to order and to size.
"Our dedication to delivering high quality products and services are paramount to our business. The Facebook shop will give us one more outlet," says founder of WeddingBands.com, Suheyla Kerkinni.
The 61,000+ Facebook followers using the WeddingBands.com page can now discover the many unique wedding ring designs. Customers can learn more and buy their rings without leaving the social media site. The Shop will offer both men's wedding bands and women's wedding rings, with the same lifetime warranty, 30-day return policy, and free shipping and engraving.
WeddingBands.com is committed to the highest standard in manufacturing wedding rings. All wedding bands are solid and not hollow and manufactured to the finest quality standards and detail.
WeddingBands.com displays hundreds of artfully crafted wedding rings of exceptional originality and spirit. Our wedding bands are manufactured using the latest CNC machining and Computer Aided Design and Manufacturing (CAD CAM). Wedding rings are created using these three basic components; perception, design, and quality fabrication. Backed by a lifetime warranty and 30-No-Questions-Return Policy; at WeddingBands.com no purchase is complete until you are 100% satisfied.