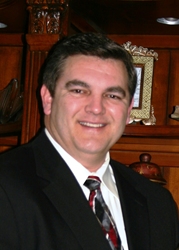 I'm excited to bring to the board the unique perspective I've gained over decades in the heating and air conditioning industry
ATLANTA (PRWEB) February 16, 2018
Martin Hoover, owner of Decatur, GA-based Empire Heating and Air Conditioning, was recently elected to serve as a board member for the Air Conditioning Contractors of America. Hoover was sworn-in February 14th, joining over a dozen other ACCA board members.
Comprised solely of industry-leading contractors, the ACCA board provides strategic leadership and manages more than ten standing and ad hoc committees. "I couldn't be more honored to serve among such bar-setting professionals," explains Hoover.
Air Conditioning Contractors of America is a non-profit organization comprised of more than 60,000 professionals and 4,000 businesses in the HVAC industry. Since 1968, the group's mission has been to raise the standard of excellence among industry contractors. They accomplish this goal by outlining standards and best-practices, providing educational opportunities, offering resources to member contractors, and even by lobbying on behalf of contracting businesses in Washington D.C.
Hoover's company, Empire Heating and Air Conditioning, was founded in 1985 and has since become one of the highest-rated HVAC providers in the entire Atlanta area. The company installs, repairs, and maintains all make and model indoor heating and cooling equipment for clients all over metro Atlanta and beyond.
"I'm excited to bring to the board the unique perspective I've gained over decades in the heating and air conditioning industry," explains Hoover. "It's always been incredibly important at Empire to employ only the best technicians in the business, so our mission is very much aligned with that of the ACCA."
Empire Heating and Air Conditioning has been a recipient of the Angie's List Super Service Award for 12 years running. With numerous certifications and accreditation, the company has developed a reputation for outstanding service and quality.
For more information on services provided by Empire Heating and Air Conditioning or to schedule at at-home service visit, contact the office at 404-596-6161 or visit http://www.empirehvac.com.