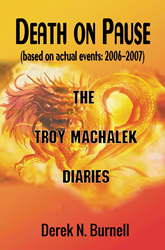 "WOW doesn't even begin to describe this real-life extortion, murder, torture, kidnapping plot." - Robert Fletcher, CEO of Strategic Book Publishing and Rights Agency
(PRWEB) March 01, 2018
Author's note from Derek N. Burnell: What you are about to read represents just 15 months (2006-2007) in Kaelyn Yen's (pseudonym) sad and tragic true-life drama. At the time of completing this book, Kaelyn's nightmarish journey had still not reached its conclusion. To many, Kaelyn's experiences could be described as sad, horrific, torturous, and even unbelievable, but to the law enforcement officers tasked to free and protect her, it is said to be the most bizarre and complicated case they have ever been involved in. Sadly, many of those officers have since lost their lives, as have scores of others involved through association.
"Death on Pause: The Troy Machalek Diaries" represents the author's second novel: a crime story about a Taiwanese model whose Triad-affiliated relatives methodically murder her family and friends, and then kidnap her to extort her inherited money. The book is based on a real woman's living nightmare, and the events that have dominated her life ever since.
After Taiwanese model Kaelyn Yen is drugged and held captive by the head of an American top modelling agency, she grasps that the recent deaths in her family were not accidents, but well-planned murders. Her boyfriend joins with the FBI to rescue Kaelyn, but nothing goes according to plan. The international pursuit results in more murders, torture, and suicide. Truth is stranger than fiction.
"WOW doesn't even begin to describe this real-life extortion, murder, torture, kidnapping plot. We are thrilled to announce Derek's newest novel," said Robert Fletcher, CEO of Strategic Book Publishing and Rights Agency.
About the Author: Born in Adelaide, South Australia, author Derek N. Burnell finished university in Geelong, Victoria, before travelling extensively for work and play. His exploits include: a 12-month sailing adventure from New Zealand through the Pacific Islands to Japan, sailing around Australia and nearby Pacific countries, and overland travels through Asia, China, Europe, North and Central America. He has lived the past 30 years on Australia's Gold Coast, where the holiday lifestyle complements his work and writing. His previous novel was "Hearts in Conflict: The past can be an emotional nightmare – the present even more so."
DEATH ON PAUSE (BASED ON ACTUAL EVENTS: 2006-2007): THE TROY MACHALEK DIARIES (e-Book ISBN: 978-1-63135-569-1, Kindle ISBN: 978-1-63135-570-7) is available for $9.99 at epubco.com, at Amazon.com, Barnesandnoble.com and in multi-formats for other e-Readers through numerous vendors online.
The soft cover version (ISBN: 978-1-60976-147-9, $27) can also be ordered through the publisher's website: http://sbprabooks.com/DerekNBurnell or at Amazon.com or Barnesandnoble.com.
WHOLESALERS: This book is distributed by Ingram Books and other wholesale distributors. Contact your representative with the ISBN for purchase. Wholesale purchase for retailers, universities, libraries, and other organizations is also available through the publisher; please email bookorder(at)sbpra.net.