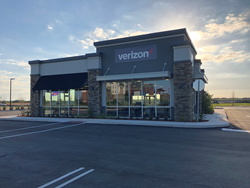 Florida itself has proved to be a huge area of growth for us.
PORT ST. LUCIE, Fla. (PRWEB) February 22, 2018
Cellular Sales, the largest independent Verizon Wireless retailer by volume, has opened its second location in Port St. Lucie.
The new store is located at 11147 SW Village Parkway, just next door to Panda Express. Cellular Sales opened its doors on Jan. 23. The company operates another Port St. Lucie location on South Federal Highway
"This store is in a great location, and when we saw it was available, we had to grab it," said Cellular Sales Regional Director Chris Keen. "Florida itself has proved to be a huge area of growth for us."
Named to the Inc. 5000 nine times, Cellular Sales has grown tremendously since its inception. Placing an emphasis on customer service, Cellular Sales has grown from a single store in Knoxville, Tenn., to a national retailer with 670 stores across 39 states.
"Our business model has always revolved around putting the customer first," said Regional Director Jeff Currey. "We focus on being reliable and convenient, and the opening of this new location will provide our customers with just that."
Cellular Sales seeks to hire motivated sales professionals with a passion for customer service to work at its Port St. Lucie store. Those interested in applying for jobs at Cellular Sales in Port St. Lucie may contact Cellular Sales Recruiter at Sebastian Diamante at (321) 278-1428 sebastian.diamante@cellularsales.com.
About Cellular Sales 
Headquartered in Knoxville, Tenn., Cellular Sales was founded in 1993 and has been named by Inc. Magazine as one of the nation's fastest-growing privately owned retailers for nine of the past 10 years. The company currently employs 7,200 people and operates 670 stores nationwide. Job seekers may visit jobs.cellularsales.com. For more information on the company, visit cellularsales.com. 
# # #