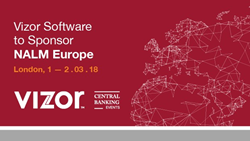 Vizor is proud to be an Associate Sponsor of this event.
DUBLIN (PRWEB) February 26, 2018
Vizor, the world leader in supervisory software for central banks and financial regulators, today announced it will participate at the National Asset-Liability Management Conference (NALM) Europe as an Associate Sponsor. The conference, presented by Central Banking, will be held March 1st and 2nd at Gibson Hall in London, England.
At the conference, visitors to Vizor's exhibition space will have the opportunity to learn:

Why leading financial regulators such as the Bank of England (BoE) and the Saudi Arabian Monetary Authority (SAMA) have selected Vizor Software.
How Vizor collects supervisory, statistical, and other relevant data in both structured and unstructured formats.
How Vizor's solution strengthens the entire supervisory lifecycle with improved data quality that enables more effective analysis.
About the benefits of an integrated risk-based supervision solution based on industry leading risk frameworks.
Vizor Software for Financial Regulators is a best-in-class collection and supervision system. Successfully used by regulators in over 25 countries, it includes the breadth of product capability for the full supervisory function. It has the flexibility to meet regulator specific needs and includes standard models for risk-based supervision.
Being held concurrent with the conference is the Central Banking Awards gala dinner, where Vizor will be presented with the 'Technology Consultant of the Year 2018' award. The annual Central Banking awards recognise outstanding performance by individuals and organisations within the central banking community.
For more information about NALM Europe, visit http://www.nationalalm.com/europe
About Vizor
Vizor Software is the global leader in enterprise supervisory solutions for Financial Regulators. We help Financial Regulators protect and enhance the stability of the financial system. Vizor is trusted by Central Banks and Financial Regulators in more than 25 countries for the collection, validation and analysis of highly complex data from financial institutions. Vizor Software is an integrated data collection and supervisory system that is based on best-in-class supervisory models but flexible enough to deal with regulator specific needs. You can learn more at vizorsoftware.com or by following Vizor on Twitter, LinkedIn, Google+.