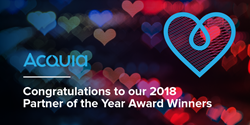 SAN DIEGO (PRWEB) February 23, 2018
Mirum today announced that it has been named by Acquia as EMEA Partner of the Year. Mirum also shared that X-Prime, its subsidiary, has been named an Acquia Growth Partner of the Year for 2017-2018. Mirum is a Global Select Partner and was Growth Partner of the Year in EMEA in 2017.
The Acquia Partner Program supports and rewards partners who build their businesses using the innovative technology of the Acquia Platform to create great customer experiences.
Mirum and X-Prime are part of the WPP-Acquia Alliance to design, build and optimize Drupal websites on the Acquia Platform, offering digital marketing clients a complete solution, covering technology, creativity, campaigns and content.
"We are thrilled to be recognized as Acquia's EMEA Partner of the Year. We have been investing in our Drupal teams for some time in Europe, North America and Brazil. We've also already put in place the technical platform to allow us to bring our Mirum and X-Prime technical teams together for Acquia clients. We believe in the product and the community that makes Acquia such a strong choice," said Matt Webb, Mirum Global CTO.
"Digital is driving today's customer journey and Acquia's partners demonstrate the art of the possible for customer experience. Our partners represent a community of leaders showing how innovative UX, intuitive design and contextual content come together to deliver a winning combination," said Joe Wykes, Senior Vice President of Global Channels and Commerce at Acquia. "We are thrilled to share that Mirum has achieved Global Select Partner status among a competitive pack of top performers. We are proud to celebrate the collective results of Mirum's work as we evolve the Partner Program."
"The recent addition of Acquia Journey will drive value for our clients and help future-proof their businesses in an ever-changing landscape," said Allison Lupercio, Vice President, Strategic Alliances & Growth, Mirum.
With more than 87 experienced Drupal developers and a dozen large-scale projects completed in Drupal 8, Mirum has the experience and know-how to design, build and optimize Drupal websites on the Acquia platform. It offers digital marketing clients a complete solution, covering technology, creativity, campaigns and content.
You can read more about the Acquia announcement here, and the WPP global partnership here.
About Mirum
Mirum is a borderless agency of over 2400 digital savants, storytellers, makers and relentlessly curious minds who are united by an uncommon drive to make what's next. Active in 24 countries, we work across our global network of expertise to transform business, design innovative digital experiences and activate commerce at a global and local level. We are capable of delivering global solutions while providing local support. Mirum is part of the J. Walter Thompson Company and the WPP Network. Visit mirumagency.com for more information.
About Acquia
Acquia provides a cloud platform and data-driven journey technology to build, manage and
activate digital experiences at scale. Thousands of organizations rely on Acquia's digital factory to power customer experiences at every channel and touchpoint. Acquia liberates its customers by giving them the freedom to build tomorrow on their terms.
For more information visit acquia.com or call +1 617 588 9600.
All logos, company and product names are trademarks or registered trademarks of their respective owners.