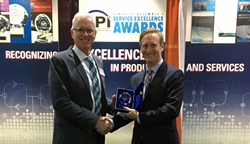 CRANSTON, R.I. (PRWEB) March 05, 2018
AIM, a leading global manufacturer of solder assembly materials for the electronics industry, announces that their REL22TM high reliability solder alloy was awarded Circuits Assembly's New Product Introduction (NPI) Award 2018 at IPC Apex at the San Diego Convention Center.
Selected by an independent panel of industry experts, the Circuits Assembly NPI award winner is selected based on creativity & innovation, compatibility with existing technology, cost effectiveness, expected reliability, performance, and more.
AIM's REL22 lead-free solder alloy is specifically engineered as an exceptionally durable alloy for extreme service environments and provides superior thermal cycling performance and lower voids versus other lead-free alloys. It has been shown to reduce tin whisker formation and improved strength versus SAC alloys making them ideal for high reliability electronics applications.
"AIM's R&D, production and technical staff share in the success of REL22 and we are honored to have their efforts recognized in Circuits Assembly's NPI 2018 award," said Tim O'Neill, AIM Technical Marketing Manager. "REL22 provides assemblers with a novel material to meet the needs of an evolving market and is a direct result of AIM's focus and commitment to technological innovation. REL22 is simply the most advanced and capable alloy available in the high reliability solder market space and this award confirms it."
About AIM
Headquartered in Montreal, Canada, AIM Solder is a leading global manufacturer of assembly materials for the electronics industry with manufacturing, distribution and support facilities located throughout the world. AIM produces advanced solder products such as solder paste, liquid flux, cored wire, bar solder, epoxies, lead-free and halogen-free solder products, preforms, and specialty alloys such as indium and gold for a broad range of industries. A recipient of many prestigious SMT industry awards, AIM is strongly committed to innovative research and development of product and process improvement as well as providing customers with superior technical support, service and training. For more information about AIM, visit http://www.aimsolder.com.
Upcoming Events:
March 14-16, 2018 – Productronica China – Shanghai New International Expo Centre, Shanghai, China
March 28, 2018 – SMTA West Penn – DoubleTree Monroeville, Monroeville, PA
April 10, 2018 – SMTA Dallas – Plano Centre, Plano, TX