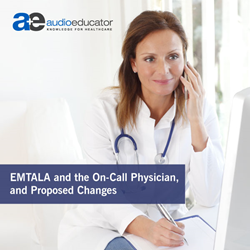 Stiff penalties will cost both hospitals and physicians who violate EMTALA—and those fines have doubled.
DURHAM, N.C. (PRWEB) March 07, 2018
AudioEducator, a division of audio conference and corporate education leader ProEdTech, will host the live webinar "EMTALA and the On-Call Physician, and Proposed Changes" with industry veteran Sue Dill Calloway on Tuesday, March 20, 2018 at 1:00pm ET. Did you know that Emergency Medical Treatment and Labor Act (EMTALA) deficiencies are the number one problematic standard for hospitals from the Centers for Medicare and Medicaid Services (CMS)? The agency has started issuing quarterly deficiency memos; the current count is more than 3,687 EMTALA deficiencies, and many of those involve on-call physician issues. Don't get called out!
Every hospital that has an emergency department and accepts Medicare or Medicaid reimbursement must follow federal law and CMS guidelines on EMTALA. This includes critical access hospitals. Stiff penalties attach for both hospitals and physicians for EMTALA violations. In fact, the penalty has more than doubled: Violations can now cost 100-plus-bed hospitals a $104,826 fine and exclusion from the Medicare program. Physicians can be fined, excluded from federal program participation, and have their licenses revoked by the state medical board.
That's why it is essential that every hospital learns to comply with federal regulations and interpretive guidelines on EMTALA—especially with regard to on-call physician requirements.
Join this session, where regulatory compliance expert Sue Dill Calloway, RN, MSN, JD will cover the EMTALA regulations concerning on-call physicians. She will discuss the proposed Office of Inspector General (OIG) changes that affect on-call physicians, as well as changes to the way the Beneficiary and Family Centered Care (BFCC) Quality Improvement Organization (QIO) handles complaints. Don't miss this opportunity to upgrade your EMTALA on-call system training and protect your hospital against costly violation consequences.
The session will benefit hospital directors; emergency department managers, physicians, and nurses; compliance officers; medical staff managers and educators; and other professionals charged with EMTALA compliance. This comprehensive presentation will cover:

CMS interpretive guidelines on EMTALA
OIG-proposed changes to on-call physicians
QIO determination of medical standard of care
Payment for on-call coverage
Shared and community call plans
In-patient prospective payment system (PPS) EMTALA changes
Essentials of provider agreements and on-call physicians
Relevant factors test
Common practices that have landed physicians in hot water
And more!
For more information and to register, visit: https://www.audioeducator.com/hospitals-and-health-systems/emtala-guidelines-for-on-call-physicians.html
Get $40 off on our conferences and webinars. Use Code PRWEB40 on checkout (applicable for all purchases).
About ProEdTech
ProEdTech is a leading source of knowledge and training for professionals in over 15 industries, serving individuals, businesses and their employees around the globe. It offers webinars, online conferences, seminars, boot camps, books, DVDs, white papers, industry reports and other learning tools from industry experts and insiders who provide a fresh perspective on key issues, trends and regulations in order to simplify governance, risk and compliance (GRC) for enterprises and industry professionals. ProEdTech's AudioEducator webinars offer updates, regulatory knowledge and information on the latest news in various medical specialties, as well as coding and billing updates, and analysis of regulations that affect ambulatory surgical centers, home health, long term care and hospice facilities, hospitals and healthcare systems, health insurers and physician practices. Webinars are also offered through AudioSolutionz in the technology, human resources, construction and housing, ICT and telecom, manufacturing, consumer packaged goods and retail, safety and security, transportation, energy and environment, education, trade, and chemicals industries. ProEdTech's Eli Financial platform offers tax and banking professionals, focusing on providing high-quality online training products customized for U.S. lenders and tax practitioners that include the latest updates from the IRS, CFPB and other regulatory authorities. ProEdTech regularly provides professionals the opportunity to get answers to their most complex questions directly from experts, without having to attend costly live conferences. To learn more, visit: http://proedtech.com/.