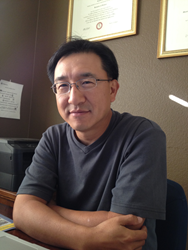 Suntae has a great combination of strong technology leadership and a deep understanding of what it takes to provide world-class client service and support.
SAN FRANCISCO, Calif. (PRWEB) March 13, 2018
Viscira, a leading provider of digital marketing solutions and software products for the life sciences industry, today announced the addition of Suntae Kim as its new Vice President of Software Development.
In this key role, Mr. Kim will lead Viscira's Software Development and Functional QA teams and its ongoing development of cutting-edge technical solutions for various digital platforms, including mobile phones, iPads/tablets, desktop computers, AR/VR/mixed-reality headsets, and large touch-screen panel displays for conferences. Under Mr. Kim's leadership, the company expects to continue to deliver high-impact digital strategies, best-in-class technical solutions, and innovative user experiences in support of its clients' sales and marketing efforts. Mr. Kim will also play a prominent role on Viscira's Executive Team, helping shape the company's strategic direction and new product development efforts.
Mr. Kim is a customer-focused technology professional with a successful career delivering distinctive technology solutions and integrated marketing programs for major clients. He joins Viscira with over 20 years of experience in product development, software engineering, client services, and executive management. He began his career in various technology leadership positions at industry-leading companies like Oracle, Netscape, and Samsung, where he managed engineering teams focused on application development, e-commerce, and SaaS platforms.
Mr. Kim started out as a programmer. He subsequently took on roles of increasing responsibility, moving from development management to executive roles in engineering and service delivery. More recently, he has been a co-founder of numerous technology startups. His last company offered web, mobile web, and mobile app development and hosting services that supported billions of page views using a cloud-based SaaS platform.
Mr. Kim maintains impressive academic credentials in addition to his software development and leadership experience. He holds a Master of Engineering in Operations Research and Industrial Engineering and a Bachelor of Science in Electrical Engineering, both from Cornell University.
"Suntae has a great combination of strong technology leadership and a deep understanding of what it takes to provide world-class client service and support," said Rick Barker, Chief Operating Officer (COO) of Viscira. "Suntae also brings a history of building and managing highly productive software engineering teams and will be a solid addition to both our Software Development team and our Executive team."
"I'm excited to bring my passion for building innovative products and delivering top quality technical solutions to Viscira," commented Mr. Kim. "I'm looking forward to further enhancing Viscira's software development expertise, and I'm thrilled to be part of a company that is a recognized technology leader in life sciences digital marketing."
About Viscira
Viscira is dedicated to the design and development of digital marketing solutions and interactive software applications for the life sciences industry. Viscira provides a suite of programs that integrate best-in-class technology to deliver engaging and memorable content via various electronic channels. Viscira is part of the Sudler & Hennessey Group, a leading global healthcare communications network. For more information, please visit the company's website at http://www.viscira.com, or contact Noёl Ashekian at (617) 429-0834.