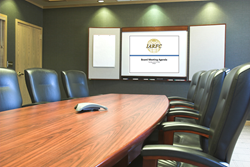 The IARFC needs talented and experienced consultants to fill these positions. I feel these individuals will assume their duties and responsibilities with enthusiasm, thus guiding the path of the Association through the upcoming year..." H. Stephen Bailey, MRFC – IARFC Chairman and CEO
MIDDLETOWN, Ohio (PRWEB) March 22, 2018
Re-elected as President is Peter J. D'Arruda, MRFC He is the president and founding principal of his own firm – Capital Financial Advisory Group with 25 years as an investment advisor and fiduciary. Known as "Coach Pete" to most of his clients and radio show listeners, he will continue his role as IARFC President working on special projects for the Association. During the upcoming IARFC 2018 Biltmore Conference, "Coach Pete" will be putting his radio interview talents to work in taping discussions with National Financial Plan Competition participants and Board Members.
For the Treasurer position, Michael Markey, MRFC takes over the responsibilities from retiring Board Member Jon Rogers, Ph.D., MRFC. As co-founder and owner of Legacy Financial Network and its associated companies, his focus is on those in retirement and near retirement. Markey, a multiple Million Dollar Round Table member has an impressive career which includes writing and radio hosting. As Treasurer, he will work closely with the COO, Charlotte Isbell to ensure that all of the Association's Funds are handled property.
Markey and D'Arruda join the current officers H. Stephen Bailey, MRFC – Chairman and CEO, Nicholas Royer, RFC®. – Vice Chairman, and Michelle Blair, RFC®. – Secretary. They will all be in attendance for the Board Meeting on April 17, immediately before the IARFC 2018 Biltmore Conference.
"The IARFC needs talented and experienced consultants to fill these positions," said H. Stephen Bailey, MRFC – IARFC Chairman and CEO. "I feel these individuals will assume their duties and responsibilities with enthusiasm, thus guiding the path of the Association through the upcoming year."
The executive officers are proud to be part of the Board of Directors and look forward to meeting with each other during the 2018 Biltmore Conference. For more information on the IARFC and the Executive Officers, visit the IARFC website.