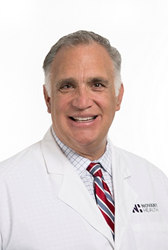 "The work of the Novant Health Heart and Vascular Institute is truly anchored in excellent histories of cardiovascular care in its communities," Dr. Vincent Pompili said.
WINSTON-SALEM, N.C. (PRWEB) March 27, 2018
Novant Health is adding a new physician service line leader, Dr. Vincent J. Pompili, MD, as it continues to expand its heart and vascular capabilities. Pompili will lead heart and vascular services — including cardiac, thoracic and vascular surgery — across the Novant Health system's four-state area.
Pompili joined Novant Health this week and will serve as senior vice president of the Novant Health Heart and Vascular Institute, after an already distinguished career in leadership roles that includes some of the country's most prestigious academic medical centers. In addition to his administrative role with Novant Health, Pompili will also perform clinical duties in interventional cardiology and structural heart disease at Novant Health Presbyterian Medical Center in Charlotte and Novant Health Forsyth Medical Center in Winston-Salem.
"We are extremely excited to have Dr. Pompili join the team at Novant Health," said Regina Hartung, vice president of heart and vascular services for Novant Health. "I'm particularly excited to have someone with his tremendous wealth of experience working alongside our senior clinical leaders at the Novant Health Heart and Vascular Institute. With heart disease being a persistent problem across the country, it is essential our patients have access to the highest quality of heart and vascular care available. Dr. Pompili will help us to grow our programs both in North Carolina and across the Novant Health footprint."
Most recently, Pompili served in a similar leadership role at the University of Nebraska Medical Center in Omaha, Nebraska, where he also served as professor of internal medicine and chief of cardiovascular medicine. Before that, he held clinical leadership positions with dual academic appointments at Ohio State University Wexner Medical Center in Columbus, Ohio; University Hospitals Case Medical Center at Case Western Reserve University in Cleveland; and Indiana University Medical Center in Indianapolis.
Pompili completed medical school at Case Western Reserve University and did postgraduate training at Johns Hopkins University (internal medicine), University of Michigan (cardiology and molecular and cellular biology) and Mayo Graduate School of Medicine (interventional cardiology). He also served as a senior associate consultant at the Mayo Clinic in Rochester, Minnesota, following his interventional cardiology fellowship.
"The work of the Novant Health Heart and Vascular Institute is truly anchored in excellent histories of cardiovascular care in its communities," Pompili said. "As a leader, I am looking forward to being able to both continuing practicing and caring for patients, as well as taking the already strong Novant Health Heart and Vascular Institute to the next level, becoming a strong, competitive force in heart and vascular, not just in North Carolina, but beyond."
Heart disease accounts for 1 of every 7 deaths in the United States, according to the American Heart Association. That's why Novant Health is dedicated to the prevention, diagnosis and treatment of heart and vascular conditions and has invested heavily in the growth of both its structural heart disease treatment and minimally invasive procedure offerings. Many Novant Health facilities have received recognition, such as:

Top 10 percent in the nation for treatment of heart attacks
High performer in heart failure management
Highest level of chest pain center accreditation
About Novant Health
Novant Health is an integrated network of physician clinics, outpatient facilities and hospitals that delivers a seamless and convenient healthcare experience to communities in Virginia, North and South Carolina, and Georgia. Named in 2016 by Becker's Hospital Review as one of the nation's 150 best places to work in healthcare, Novant Health network consists of more than 1,500 physicians and over 26,000 employees that provide care at over 470 locations, including 14 medical centers and hundreds of outpatient facilities and physician clinics. In 2016, the health system provided more than $725.5 million in community benefit, including charity care and services.
For more information, please visit our website at NovantHealth.org. You can also follow us on Twitter and Facebook.