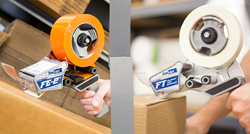 HICKORY, N.C. (PRWEB) March 29, 2018
Shurtape Technologies, LLC, a leading producer of pressure-sensitive tapes, is putting a modern spin on manual case sealing with its newest handheld tape dispensers: the FE (Folded-Edge®) hand dispenser and the FT (Filament Tape) hand dispenser. Designed with reliability and ease of use in mind, these manual tape dispensers are engineered to deliver enhanced performance with every application.
The FE Hand Dispenser is unique in construction because of patented Folded-Edge® Technology, a feature that folds both edges of the packaging tape along the length of the carton as it is applied, delivering:

Reinforced strength: Increases the strength of the tape edge to keep the seal intact, particularly at its most vulnerable failure point – the major flaps where the tape folds over the edges of the carton.
Ready-to-open seals: Creates a secure, easy-to-open carton seal that doesn't require a knife or other sharp instrument to open. It essentially creates a dry edge that allows the tape to be grasped and removed by hand, reducing the risk of product damage and worker injury attributed to knife cuts.
Improved wipe-down pressure: Allows for deeper penetration of the tape's adhesive into the carton to produce tamper-evident seals.
Other benefits of the FE Hand Dispenser include a retractable/pivoting safety blade, which reduces the risk of worker injury by shielding the user from accidental contact with the dispenser blade; visible tape length indicators that provide tab length control and help reduce tape consumption; and straight taping guidance via visible markers that help users apply a secure seal with a single strip. The FE hand dispenser is available in two versions, accommodating 2-inch (FE-2) and 3-inch (FE-3) wide tape rolls, and is recommended for use with Shurtape HP Series packaging tapes.
The FT 36 Hand Dispenser is a first-of-its-kind filament tape dispenser built for manual strapping tape applications, including L-Clip and C-Clip tape sealing, strapping, bundling and palletizing jobs. The patented handheld dispenser is designed with a pistol grip for comfort and ergonomics in repetitive use applications, and delivers improved wipe-down force and consistent, quick cutting – even of the strongest fiber filament tapes in the industry. Other features include:
Ergonomic design for comfortable, repetitive use
Patented "push to cut" action for a smooth and consistent cut
Visible tape length indicators to provide tab length control and reduced tape consumption
The FT hand dispenser is recommended for use with Shurtape GS Series filament tapes.
"While automated case sealing technology is constantly evolving and improving, the hand dispenser market has seen very little change over the years," said Bradley Dunlap, product marketing manager for packaging tapes at Shurtape. "We've given the manual tape application process a facelift with the new – and improved – FE and FT hand dispensers. They were designed with performance in mind – to enhance the manual taping process by delivering better wipe-down pressure, eliminating wasteful taping by indicating usage, reducing potential injuries caused by knife cuts and repetitive motion, and more."
To learn more about these innovations – and the full portfolio of hand dispensers from Shurtape – visit Shurtape.com.
SHURTAPE® BRAND
Shurtape® brand, marketed by Shurtape Technologies' Industrial Group, proudly serves a variety of professional and industrial markets with a comprehensive product portfolio that includes masking and paper, foil and film, packaging, double-coated, cloth and duct, and other specialty tape products, in addition to packaging dispensers and equipment for automated and manual packaging applications. For more information, visit shurtape.com, find us on Facebook® (facebook.com/Shurtape), follow us on Twitter® (@shurtapetech) or watch our videos on YouTube® (youtube.com/ShurtapeTech).
SHURTAPE TECHNOLOGIES, LLC
Based in Hickory, N.C., Shurtape Technologies, LLC, is an industry-leading manufacturer and marketer of adhesive tape and consumer home and office products, with facilities in the United States, Canada, United Kingdom, Germany, Mexico, Peru, United Arab Emirates and China. Together, our subsidiaries serve numerous markets, including DIY, home products, industrial/MRO, building and construction, electrical, packaging, HVAC/insulation, professional paint, automotive, marine, aerospace, arts and entertainment, graphic arts, sound control, medical and retail. Learn more at ShurtapeTech.com.
Facebook® is a registered trademark of Facebook, Inc.
Twitter® is a registered trademark of Twitter, Inc.
YouTube® is a registered trademark of Google Inc.