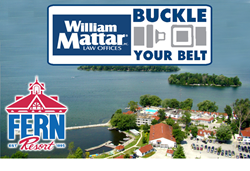 "Win a trip to my favorite family resort by making the pledge to keep your family safe in vehicles." -William Mattar
BUFFALO, N.Y. (PRWEB) April 04, 2018
Automobile safety is very important to car accident attorney William Mattar. Each year, the firm's Buckle Your Belt program encourages the public to take the pledge to Buckle Your Belt every time you travel in a motor vehicle. One lucky winner will receive a trip for 4 to Fern Resort in Ontario, Canada to enjoy many fun family activities, beautiful and relaxing scenery and create lasting memories.
It's easy to make the pledge! Just go to williammattar.com and you will find Buckle Your Belt under the Community tab. You will find more information on seat belt safety, the pledge/entry form, and complete contest rules. Take the pledge any time during the month of April, 2018 but buckle up and be safe every time you travel in a motor vehicle.
About William Mattar, P.C.:
Auto accident attorney William Mattar is actively involved in promoting community safety through a number of firm programs including Buckle Your Belt, In The Heat Check The Seat, Pencils 4 Schools, Free Smoke Detector Program, Rescue a Shelter Animal, and New Year's Safe & Sober just to name a few. One of the largest firms in New York State focusing on motor vehicle accident cases, William Mattar has been recognized for significant jury verdicts and has been helping people since 1990.