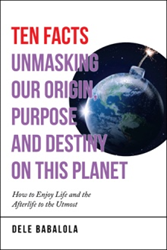 BALDIVIS, Australia (PRWEB) April 04, 2018
Dele Babalola wanted to make the Bible more user friendly and explain deep hidden truths and mysteries in it. It prompted him to write "TEN FACTS UNMASKING OUR ORIGIN, PURPOSE AND DESTINY ON THIS PLANET: How to Enjoy Life and the Afterlife to the Utmost" (published by iUniverse), a spiritual guidebook that offers a manual to help believers understand everything about human origin, existence, purpose and destiny, showing how faith in God is paramount.
The book shares a road map that Babalola believes will help Christian believers decipher the meaning and purpose of human existence. For him, because science can only explain the world incompletely or in fits and starts, it is important to turn to the eternal truths contained in the Bible—God's inspired words to his human creation on earth, and the true manual for understanding "why we are here." With this foundation, Babalola outlines the fundamental knowledge that "we need to make our way through life, sharing the 10 most important facts about our humanity and salvation."
"It is obvious mankind has lost his sense of direction and so needs divine help to retrace the tracks," Babalola explains. "A good understanding of the message of the book will make our planet a better habitat for everyone: end the arms race; end immorality; end poverty and disease and should usher in the era of worldwide egalitarian and utopian governments, where everyone loves each other like oneself and no more hatred or the need to seek vengeance or embark in warfare."
"There is a divine designer behind our existence who is interested in us and has always been in charge of our creation, day-to-day living and has a great plan for our future after death. We have a choice to enjoy life and afterlife to the utmost. It is a matter of an individual's decision. It is that easy."
"TEN FACTS UNMASKING OUR ORIGIN, PURPOSE AND DESTINY ON THIS PLANET: How to Enjoy Life and the Afterlife to the Utmost"
By Dele Babalola
Hardcover | 6 x 9in | 114 pages | ISBN 9781532041631
Softcover | 6 x 9in | 114 pages | ISBN 9781532041624
E-Book | 114 pages | ISBN 9781532041648
Available at Amazon and Barnes & Noble
About the Author
Dele Babalola was born in Nigeria in 1961 and became a citizen of New Zealand in 2011. He was transformed to a proper Christian in 1987 after encountering God in a supernatural way when after being directed, read the book of Galatians Chapter 5 in the Bible. He is committed to sharing his faith to all who are ready to receive Jesus Christ as Lord and Savior. Babalola is also a consultant general medical practitioner in Australia and an active member of the Nations Church in Port Kennedy, Rockingham, Western Australia. He is married and blessed with five children. His other publications include "Tai Solarin: Africa's Greatest Educationist and Humanist," "The Pull of Blood," "My Walk with God" and "Your Personal Health Guide."