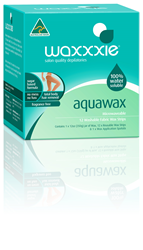 These products are going to revolutionize the do-it-yourself waxing industry, and each offers a salon-quality wax whether you have sensitive skin or normal skin.
BOCA RATON, Fla. (PRWEB) April 12, 2018
Caronlab Australia's newest line of salon-quality home beauty care products, Waxxxie, a line of do-it-yourself home waxing products for every skin type, is coming soon to health, wellness and beauty care e-commerce site VitaBeauti.com.
In all, there are six products in the Waxxxie line that will soon be available on VitaBeauti.com: the Waxxxie Aquawax Roll on Kit for total body waxing; the Waxxxie Ready to Use Wax Strips - Body; Ready to Use Wax Sensitive Wax Strips - Facial; Waxxxie Salon Wax, suitable for sensitive and delicate areas; Waxxxie Aquawax, suitable for total body waxing; and Waxxxie Washable Fabric Strips.
"These products are going to revolutionize the do-it-yourself waxing industry, and each offers a salon-quality wax whether you have sensitive skin or normal skin," Caronlab Australia retail brand manager Derek Griffin said. "We just launched these products in the U.S. marketplace, and we're excited to add them to VitaBeauti.com, where our Bump eRaiser line is already available."
The Waxxxie Aquawax comes with 12 washable and reusable wax strips, wax and an application spatula, and is designed for total body hair removal. The formula is sugar based and 100 percent water-soluble. Waxxxie also makes additional Washable Fabric Strips as an optional companion product for Aquawax.
Salon Wax is a peel-off wax version specially designed for sensitive skin and delicate areas. It is microwaveable, easy to use, and comes with wax, an after-care wipe, a wax application spatula and a disposable g-string.
Waxxxie also makes an Aquawax Roll-On Kit for 3-in-1 total body waxing. It comes with a wax cartridge, three different roll-on heads — one for the face and small areas, one for delicate areas and one for the legs and body — and 12 reusable wax strips.
Finally, Waxxxie makes ready-to-use Wax Strips with new softer fabric for both facial and small areas, and larger strips for total body hair removal.
"The strips are super fast and convenient, and perfect to throw in your suitcase for traveling," Griffin said. "All you have to do is warm the strip between your hands and separate the double-wax strip, press the wax strip on and quickly peel it off to remove hair. It can't get more convenient than that, especially when you're traveling or might not have a microwave to heat the wax."
Lilliane Caron — an experienced waxing specialist from Geelong, Australia — established Caronlab Australia in 1979. Dissatisfied and frustrated with waxes that were on the market, Caron developed her own premium, yet affordable, products. Her tireless efforts have resulted in research-based beauty care products developed by therapists — for therapists — in conjunction with chemists that have grown to be the leading professional wax brand in Australia today.
Waxxxie's sister line, Bump eRaiser, has seen tremendous growth in the U.S. marketplace over the past couple of years. The Bump eRaiser range was designed to help prevent and eliminate ingrown hairs, redness and bumps for smooth and healthy looking skin both pre- and post-hair removal.
Visit http://www.waxxxie.com, http://www.bumperaiser.com.au, or http://www.caronlab.com.au for more information.